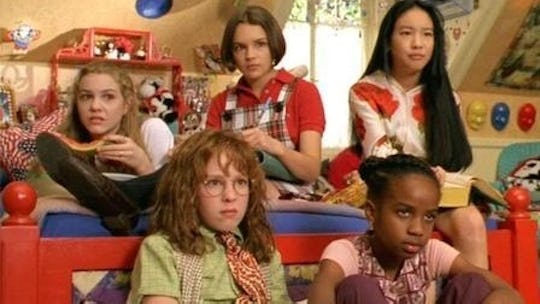 'The Babysitters Club' Had A Reunion, And Almost Everyone Was There — PHOTOS
Do you remember when The Babysitters Club movie came out? Of course you do, because the only possibly bigger deal would have been a Sweet Valley High movie. Or so you think until you see photos from a mini Babysitters Club cast reunion last night. In honor of the film's 20th anniversary, Austin's Alamo Drafthouse Cinema (famous in my mind for letting you drink wine and eat a real dinner while watching a movie in the theatre) hosted a screening that included some very special guests: six of the original cast members, including Schuyler Fisk, who played Kristy, Rachael Leigh Cook (Mary Anne), Larisa Oleynik (Dawn), Stacy Ramsower (Mallory), Bre Blair, who played Stacey, Marla Sokoloff (Cokie Mason), and director Melanie Mayron.
To its credit, Alamo Drafthouse got properly into it, even featuring a Babysitters Club signature cocktail menu featuring "The Kid Kit," the "Ann M. Martini," and "The Boss." 
Cook and Fisk shared photos before the event on Instagram, and is it just me, or does seeing the Club together again giving you the same squad envy that watching the movie and reading the books always did? 
Fisk posted: "this. is. the. best. here we come #drafthouse #bscreunion"
and later Cook posted a pic on what appear to be the escalators at Alamo Drafthouse with the caption "It's ON! #BSCreunion Alamo Theater, Austin Tx."
I'm not going to lie, I'm sad Tricia Joe, who played oh-so-fashionable Claudia Kishi, and Zelda Harris (Jessie Ramsey) weren't there, but I'm sure they had good reasons. It's still totally satisfying to see the crew together again.
Images: Columbia Pictures, rachelleighcook, schuylerfisk/Instagram