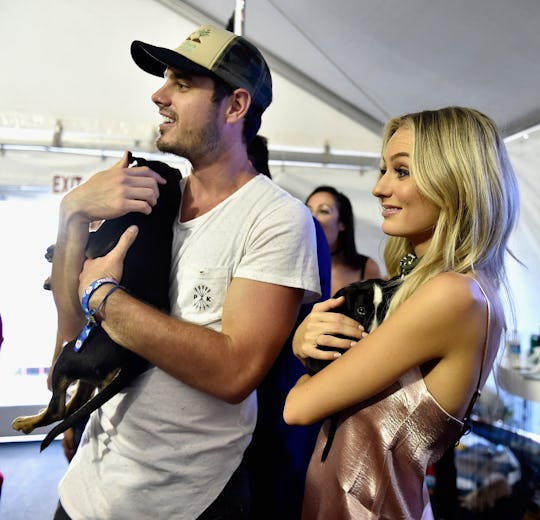 David Becker/Getty Images Entertainment/Getty Images
'The Bachelor's Ben & Lauren Call Off Their Wedding, But They're Still Together
In a move that will surprise almost no one, another Bachelor couple looks like they could be on the rocks soon — although for now, it seems they're trying to stick it out. During the Happily Ever After? episode of The Bachelor (and fyi, the question mark should have been a dead giveaway), Ben Higgins announced that he and Lauren Bushnell had called off their wedding. The two were paired up during Season 20 of The Bachelor, and while, normally, the final couples always seem to stay together forever... oh wait.
Higgins and Bushnell were having a cozy little therapy session on their Freeform reality show, Ben and Lauren: Happily Ever After? when Higgins broke the news. As Bushnell wiped away tears, he said:
I don't want us to rush it. ... There's still things that we need to know. And I would rather do that now than get into ... after a wedding and then, all of a sudden, sit down and be like, 'What the hell did we just do?' I think this thing sped up real fast, and we haven't had a second to breathe. We both started to know each other. We were engaged. Like, it's weird. But now it's time not to rush anything else.
But don't worry; despite the fact that he just broke off their engagement on national television, the two are staying together.
At first, Lauren wasn't terribly impressed. As she pointed out, she dropped her life in Los Angeles and moved to Ben's hometown of Denver to be with him in April. She left her job as a flight attendant, her friends and family, only to have him cancel their wedding (I say again) on national television. Although it's sort of cyclical considering he proposed on television too. (Warning: do not watch if you are still an emotional wreck over the wedding cancellation. This most certainly will not help).
Luckily for Ben, Lauren took a minute, took a breath, and decided to give him the space he needs to figure things out. She told E! News that "if Ben needs a little more time to feel comfortable getting married, [then] he should really have it, because in the end, it won't matter if this wedding's a little bit later."
Unlike the majority of Bachelor and Bachelorette couples, these two are apparently (and wisely) going to try to overcome calling off a wedding and staying together, just with a slightly different pace. So far, only three out of 20 Bachelor couples have stayed together, and five out of 12 Bachelorette couples are still going strong. (I'm not going to say that the women are slightly better at picking men... I'll just let the number speak for themselves.)
At the end of the episode, Ben was understandably overjoyed not to be kicked to the curb, especially since he did tell Lauren: "I'm not leaving you. I'm not. Don't think that for a second."
I'll bet she thought that for a second.