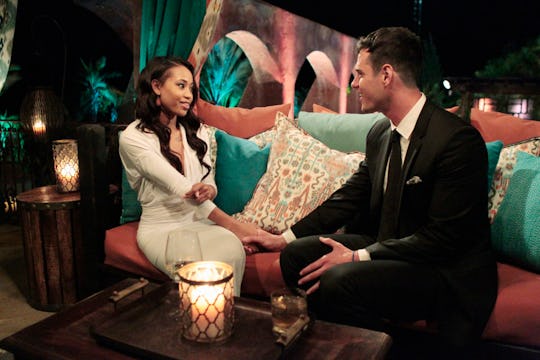 'The Bachelor's Jubilee Sharpe Was Adopted From An Orphanage, So She's Even More Badass Than You Thought
During the first group date of Season 20 of The Bachelor, contestant Jubilee Sharpe got some one-on-one time with Ben Higgins and opted to share a very personal piece of her past. Jubilee revealed that she was adopted from an orphanage in Haiti as a small child. It's not the easiest start in life, and her obvious success in her life thusfar is a clear tribute to her strength of character. The amazing thing is that Jubilee really didn't need to get any more impressive. Why? The part-time model is also a war veteran, Friends. Oh, and she's only 24.
The scene began with Higgins saying, "Jubilee is so interesting to me. There's a lot of layers to her," and he was completely right. When they sat down to chat, Sharpe told him,
I know you go to Honduras and do relief work and help the children there, and stuff like that is important to me because I was born in Haiti, and I was adopted when I was 6, and I was in an orphanage before I was adopted. And, um, it was rough, and it's something that I've had to deal with.
So in addition to her military service in Afghanistan, Sharpe has overcome the challenges that necessarily come with being adopted as a child and moving to a new country.
"What I'm hearing about you is that you continue to overcome big things," Higgins responded. "You're incredible, and I'm excited to explore who you are."
Viewers agreed that yes, Ben, you definitely should explore that. They immediately flagging Sharpe's badassery on Twitter:
Higgins did not take that advice, at least not yet. He ultimately group date rose to Jojo instead. But it's hard to say that there's any more impressive contestant this season in Bachland.
Images: ABC, jubilee1991/Instagram