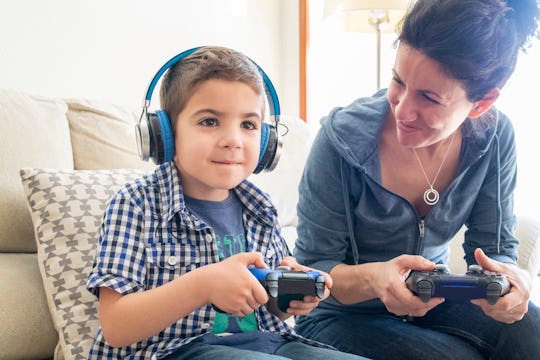 Miguel Sanz/Moment/Getty Images
There Are Actually Some Pretty Huge Benefits Of Your Kid's Video Game Hobby
Parents have to play a balancing act when it comes to screen time in this increasingly digital world. When all your kid wants to do is play "Fortnite" for hours on end, it can be tough not to worry how it will affect their behavior. However, experts agree that not all of your kid's seemingly mindless gameplay is bad for them. Benefits of playing video games actually exist, so don't rage against that Xbox just yet.
"A growing number of experts are more accepting of the notion that video games can be powerful ways to educate and improve certain skills in kids and young adults," Dr. Sanam Hafeez, Psy.D., a neuropsychologist in New York City tells Romper. "But the types of video games matter."
Studies focused on young adults have shown positive brain benefits to certain games. Hafeez says some games can improve information retention, problem-solving, improve coordination, and develop decision-making skills. Puzzle games, such as "Tetris" and "Candy Crush," were shown to increase attention and visual-spatial ability (that skill that comes in handy when trying to read a map or find your way around a new place) in a 2013 study in the journal PLOS One. Real-time strategy games, think "Age of Empires," leverage kids' strategizing skills. One study concluded that navigating the multiple dimensions in strategy games increases cognitive flexibility, which is adapting knowledge and skills to changing situations. Even first and third-person shooter games like "Fortnite" can improve concentration, according to an article by pediatrician Jeffrey Ryan, M.D. of UNC Health. The article notes that for children who become addicted or otherwise have trouble regulating their emotions, that's a negative impact that warrants talking to your child's doctor about.
When parents see their kid parked in front of a TV or computer with a controller in their hands, it can spark concern over exposure to inappropriate or violent content and the interactions they're having with people online. The American Academy of Pediatrics (AAP) recommended parents play video games with their kids to learn about the games their kids are playing in order to monitor content and ensure safe interactions with other players. The AAP also recommends limited screen time for kids in order to ensure that children get adequate rest, plenty of physical activity, and face-to-face interaction.
With age-appropriate games and informed parents, kids can reap these seven benefits of playing video games.