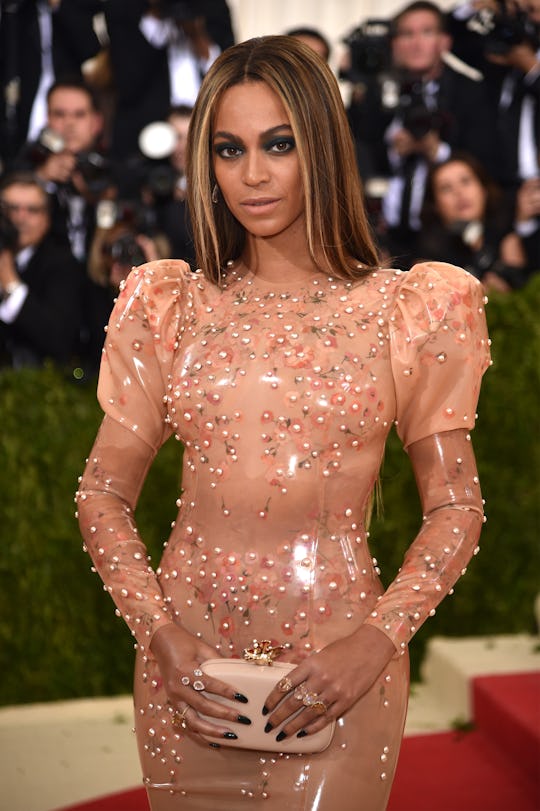 Dimitrios Kambouris/Getty Images Entertainment/Getty Images
The Best Beyonce Met Gala Dress Memes Prove That She Isn't Afraid To Make A Statement
Well, of course Beyoncé was going to wear something insane to the Met Gala—she is, after all, the queen of hype, surprises, and also the world — but I don't know if anyone expected her dress to break the Internet. Then again, she did show up in a latex gown, so I'm not sure what anyone expected. Some people loved it. A lot of people hated it. And it inspired a bunch of fantastic jokes. From condom comparisons to AP Biology callbacks to concern for Becky with the good hair, the best Beyoncé Met Gala dress memes prove that the superstar isn't afraid to make a statement.
Beyoncé rolled onto the red carpet at the annual Met Gala on Monday night without husband Jay Z (What does it mean? Are the allegations in Lemonade true??), rocking a latex dress from Givenchy. The other standout feature of the dress, besides its sheer latexness, was its pattern of pearls, which were rumored to cost $8,000 each. (So basically, one of those pearls is enough to feed a starving child for years. Why does the world work this way?)
Although tons of stars donned their finest for the extravagant the red carpet, Beyoncé grabbed the spotlight and held on. Immediately, Twitter viewers noticed that her dress reminded them of a familiar household object, something they probably had in their bedside table, and they wasted no time in calling it out.
But a condom wasn't the only thing Beyoncé's dress brought to mind. We also had a healthy dose of grandma's furniture:
Terrifying skin conditions:
And my personal favorite, the endoplasmic reticulum, a thing I have not thought about since my days in high school biology class with my teacher, Dr. Art the Singing Scientist:
Of course, there was also a potentially sinister explanation for the dress's appearance. As the whole world knows by now, Beyoncé is not a fan of "Becky with the good hair," and the Beyhive has been going crazy trying to figure out who the mystery woman potentially playing around with Jay Z could be. The question may now be moot though:
While lots of people thought Beyoncé slayed (literally?), others were not so certain:
Project Runway's Tim Gunn said on Fashion Police even noted that the gown had "S&M written all over it," which is probably the best comment she could have hoped for from the stern fashion critic. "Beyoncé is having her moment," Gunn said. "She is the center of the pop culture universe right now, shouldn't we have the highest expectations of her? I'm just flabbergasted by this misstep." Basically, according to Gunn, if this were Project Runway, Beyoncé clearly wouldn't have advanced to the next round.
Still, I'm certainly happy with Beyoncé's outfit choice. After all, if she'd gone with something basic, she would've deprived the world of so many excellent memes.