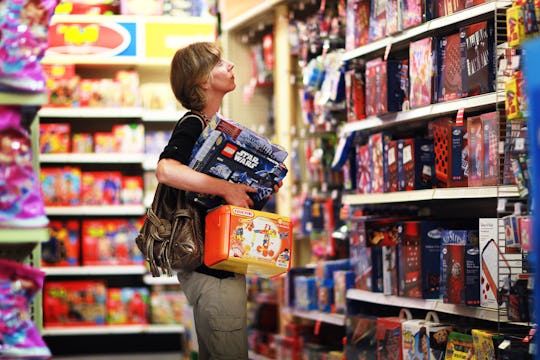 Joe Raedle/Getty Images News/Getty Images
The *Best* Black Friday 2017 Toy Sales, Because Even Santa Could Use Some Help
Something about shopping for toys on Black Friday feels a little bit like those shopping sprees that were featured on '80s game shows, right? It's a lot of people running and jumping, and knocking stacks of toys in their shopping baskets as fast as they can while trying not to break any limbs. But with a plan to scope out the best Black Friday 2017 toy sales, you can be the calm amongst the storm, strolling along with your latte in one hand, shopping list in the other.
The lists below are organized by store and suss out the best toy deals amongst the many Black Friday ads. If you are looking for popular toys, like Barbie and Legos, then you will want to check out Toys "R" Us and Walmart. If Melissa and Doug errrythang is your jam, then Macy's is the place to be. And if you want to stay at home in your pajamas, hello Amazon.
As you are sorting through the deals, be sure to do a once over of your local ads since deals may vary based on location. And most of all? Stay chill because I've got your back with the inside scoop on all of the things that will put a smile on your favorite kiddos' faces.