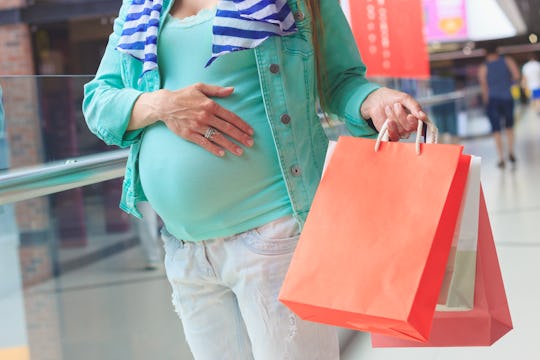 Shutterstock
The Best Black Friday Maternity Clothing Deals Include A $44 Coat & $9 Tees
Spending tons of money on clothes when you're pregnant can feel like a huge waste, since you'll likely only get a few months' use out of them. That's why you should definitely take advantage of the best Black Friday and Cyber Monday maternity clothes deals to build up your mom-to-be wardrobe. Whether you're stocking up for your own pregnancy or helping out a preggo loved one, it's the perfect time of year to get maternity clothes at a discount.
Whether you're just starting to show or nearly ready to deliver, there are Black Friday deals on everything from basics to warm weather clothes to dressy holiday gear. Finding a bump-friendly winter coat or holiday-ready outfit has never been easier, and many of the maternity holiday clothes are actually on-trend. Pregnancy fashion has come a long way in recent years, and you can go as high-concept or low-key as you like.
Plus, there are plenty of options for shopping these holiday sales. If you like the bustling excitement of a crowded store, then brave your shopping center this Thursday or Friday to score these deals in-person. If online shopping is more your speed, then plenty of retailers have deals going on from now through Cyber Monday.