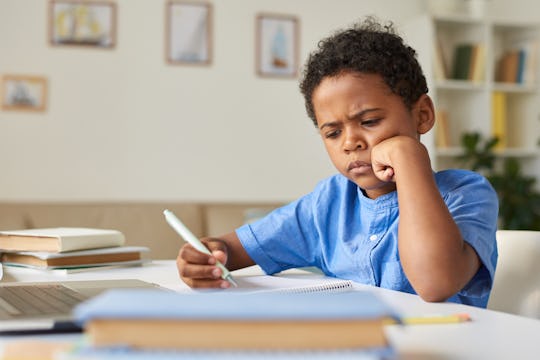 mediaphotos/E+/Getty Images
13 Best Desks For Homeschooling That Are Worth The Investment
It will come as breaking news to no one that the 2020/21 school year is going to look wildly different than usual. Some kids are going to school in-person, others are on a hybrid plan where they'll be in the classroom just two days a week, while other school districts have opted to instruct via distance learning. And all of that could change at given any moment. Naturally, many parents are realizing that setting up a home learning space will be something of a requirement this year so take a page out of the homeschooler's notebook and buy one of these homeschool desks.
After researching a variety of homeschool blogs, it's clear there are key elements you'll want to consider before hitting purchase. Namely, size, sturdiness, and that they're easy to clean.
You won't get far on lessons if your child's chair wobbles each time they try to write their name or their pencil easily graffiti's their homework station. Fortunately, many furniture brands have spent ages developing children's desks to avoid these very pitfalls.
We only include products that have been independently selected by Romper's editorial team. However, we may receive a portion of sales if you purchase a product through a link in this article.