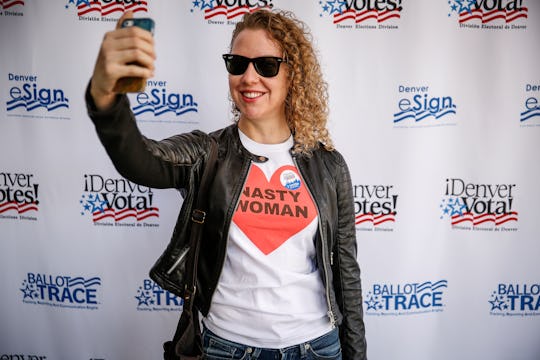 Marc Piscotty/Getty Images News/Getty Images
The Best #ElectionNight Tweets Highlight America's Feelings About Democracy
Starting early Tuesday morning on Election Day, social media was awash with people posting about voting. Of course, not everyone was allowed to take a selfie at their voting location, but many people took to Facebook, Twitter, and Instagram as soon as possible to share their "I Voted" stickers and brag about their candidate of choice. In the most historic election since – well, the last one, where we elected Barack Obama as the first African-American president — people have found creative ways to mark the occasion. Here are some of the best #ElectionNight tweets, highlighting the relief we all feel that the election is finally over.
Leave it to Twitter to serve as a lens through which we can all view one of the most historic events in U.S. history, with everything from gifs to memes, to breaking headlines and up-to-the-minute results — all while simultaneously releasing our pent-up anxiety from basically all of 2016 out into the giant, endless void of the internet. It's also an exciting opportunity to connect with the politicians, who are sitting around waiting for the results in just as much of a tense stupor as the rest of us. (Has anyone checked on Joe Biden? Is he having a good night?) It's also an invaluable tool for journalists, who are up all night reporting the results as they come in. Of course, if you're sick and tired of the official commentary, there's plenty from the Twitter peanut gallery to lift your spirits — and a lot of it was way more on point than the pundits anyway:
Others managed to find inspiration from within this wellspring of tension and anxiety:
This person's throwback photo seems to convey some hope:
Although this throwback was a little unsettling:
And in the spirit of mashing up politics with long-awaited Netflix reboots, it didn't take very long for the Gilmore Girls gifs to come out:
Plenty of celebrities tweeted their about voting, but Rhianna pretty much won all of the internet by posting a selfie of herself wearing a tee shirt of herself wearing a Hillary Clinton tee shirt:
And Ariana Grande was all of us hoping that Florida gets it together here pretty quick:
Former CBS News anchor Dan Rather — who has suffered through plenty of elections in his career — had a pretty relatable tweet about waiting for results to start rolling in:
This tweet sounds like the beginning of a truly great election night baby story:
And it wasn't even just the United States that was on the edge of its seat all day — the rest of the world had plenty to say about the election, too:
It's oddly reassuring to know that whatever happens, some things never change. Where there's breaking news or live events to collectively bite our nails over, Twitter will provide on outlet for screaming our anxieties into the void.