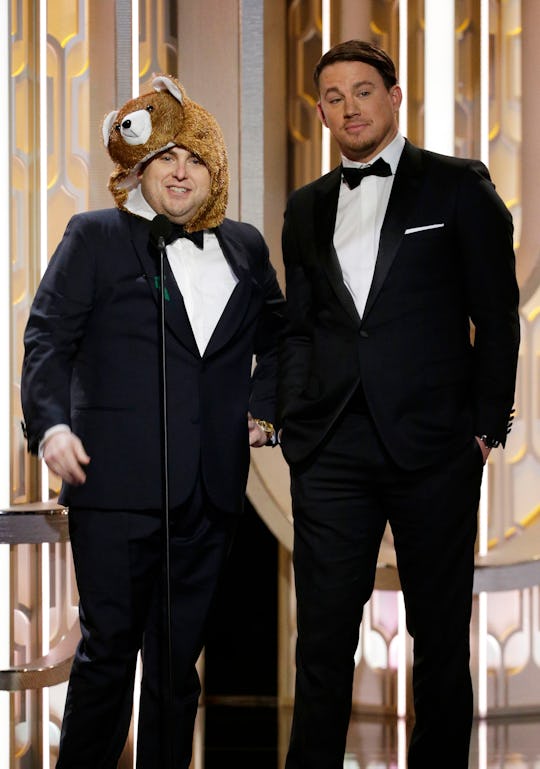 The Best Golden Globes Memes Prove The 2016 Show Was Super Awkward & Emotional
The 2016 Golden Globes aired Sunday night, Jan. 10, and definitely did not disappoint, and we have the Golden Globes 2016 memes to prove it. From Ricky Gervais' opening monologue — which he warned us would be as controversial and offensive as it turned out to be — to the hilarious moment when America Ferrera and Eva Longoria mocked an infamous Golden Globe mishap, there were more than a fare share of memorable instances that spawned a series of equally memorable memes.
Of course, the Internet couldn't stop talking about Lady Gaga scaring Leonardo DiCaprio, after she bumped into him on her way to accept her award for Best Actress — Mini-Series or TV Movie for her role in the FX series American Horror Story: Hotel. DiCaprio's reaction and subsequent expression was priceless, and arguably the reason the internet exists. And then, of course, there was the awkward exchange between host Ricky Gervais and presenter Mel Gibson, in which Ricky said something to Gibson that had to be edited out.
It seems that besides celebrating the best in movies and television, the theme of this year's Golden Globes was awkward situations and emotional moments.
Here are just a few of the best memes, forever solidifying the 2016 Golden Globes in the hearts of Internet users everywhere.