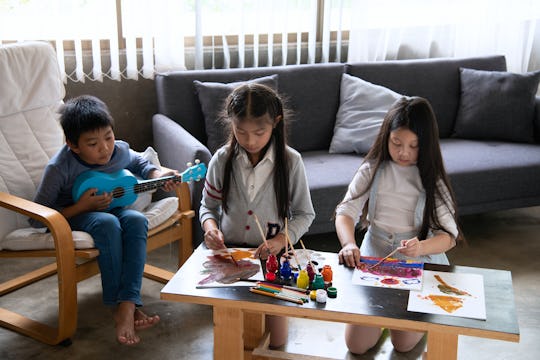 Kanok Sulaiman/Moment/Getty Images
The Best Indoor Activities For Your Kids (& You) Based On Zodiac Sign
Being constantly stuck inside isn't exactly ideal for kids, or for you, and it doesn't take long to run of out ideas to fill up the day. If you're struggling to keep things fun and out of options, try finding the best indoor activities based on your kid's zodiac sign (and your own). You may find that everyone is a little happier and more occupied doing things that fit their individual personalities.
"Your zodiac sign shows important aspects of your personality and temperament," pop culture astrologer Kyle Thomas tells Romper. "It can reveal ways you like to spend your time, how you operate independently and in groups, and how you like to express yourself." Knowing the activities your family's zodiac signs gravitate towards might help you to navigate this isolating time. "Some signs find quarantining relaxing, others will find it excruciating," Rebecca Gordon, professional astrologer and author, tells Romper. "No matter what your sign though, there are ways to survive and even thrive in this quarantine environment."
Engaging in activities that compliment your zodiac sign during self-isolation may help you actually enjoy this time. "Finding ways to harness your natural skills, whether as a parent or for your child, will help everyone to feel more grounded and focused, rather than focusing upon stress," says Thomas. Additionally, Gordon encourages people to remember that "this quarantine will clearly not be forever," and to make the best of it by "taking this opportunity to learn something new and grow closer to the people we love."