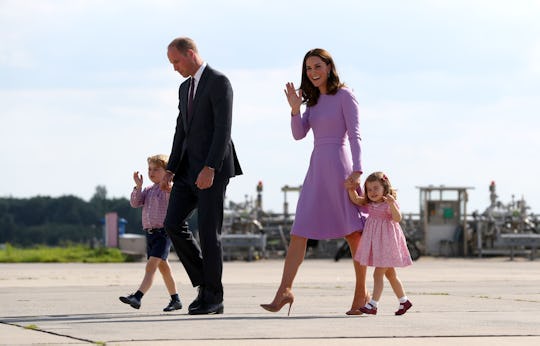 CHRISTIAN CHARISIUS/AFP/Getty Images
3 Times Kate Middleton Got Beautifully Candid About Motherhood
If there is one thing the world loves, it's a classic Cinderella story. Perhaps that's why Kate Middleton has been so loved by pretty much everyone. While of course, the duchess wasn't exactly scrubbing floors and being tormented by her ugly stepsisters, she definitely got whisked away by a handsome prince. And what's even better is that Middleton has remained the picture of class, grace, and poise through it all. And now that it has been officially announced that she is expecting her third child, these times that Middleton has spoken about motherhood prove she's more than ready to go through it all once again.
While 4-year-old Prince George and 2-year-old Princess Charlotte will certainly love having a little sibling to play with, the news of Middleton's third pregnancy still might have been a bit of a surprise. Nevertheless, if Middleton's previous remarks about pregnancy and motherhood are any indication, she's certain to have a great experience the third time around, despite any difficulties along the way.
Unfortunately, Middleton has also been diagnosed with hyperemesis gravidarum, a dangerous kind of morning sickness, according to NBC News. So while this news is exciting, all the good thoughts are being sent to Middleton as she powers through.
As the world awaits the arrival of another royal baby, let's have a look at some of the best quotes Middleton has given us when she got candid about the reality of motherhood.
When She Got Real About How Emotional It Is To Become A Mom
Speaking at London's Royal College of Obstetricians and Gynecologist this past spring, according to POPSUGAR, Middleton opened up about the startling transition into parenthood:
"There is no rule book, no right or wrong — you just have to make it up and do the very best you can to care for your family," she said. She went on:
For many mothers, myself included, this can at times lead to lack of confidence and feelings of ignorance. Sadly, for some mothers, this experience can be made so much harder due to challenges with their own mental health ... Conversations are crucial for mental well-being and they should be part of everyday family life. Talking about a problem with a friend or another trusted person can be the beginning of getting better.
When She Held It All Together After Literally Just Giving Birth
Of course, being royal means that press are hounding you all of the time, so Middleton is probably used to reporters barraging her with questions. However, dealing with them while leaving the hospital couldn't have been easy. But, unsurprisingly, Middleton handled it all with ease. According to Hello Magazine, she gracefully told reporters outside the hospital in 2013:
It's very emotional. It's such a special time. I think any parent will know what this feeling feels like.
When She Reminded Mothers Everywhere That They're Not Alone
Speaking at the Global Academy round table discussion, Middleton reminded moms everywhere that they need to come together, even when it feels like you're totally alone. According to People, she explained:
It is lonely at times and you do feel quite isolated. But actually so many other mothers are going through what you are going through, but it's being brave enough to actually reach out.
While Middleton may have quite a privileged life — yes, she is the Duchess of Cambridge — she still knows that motherhood is a struggle and her royalty hasn't stopped her from acknowledging that. And clearly, she's more than ready for her family's new addition.
Check out Romper's new video series, Romper's Doula Diaries: