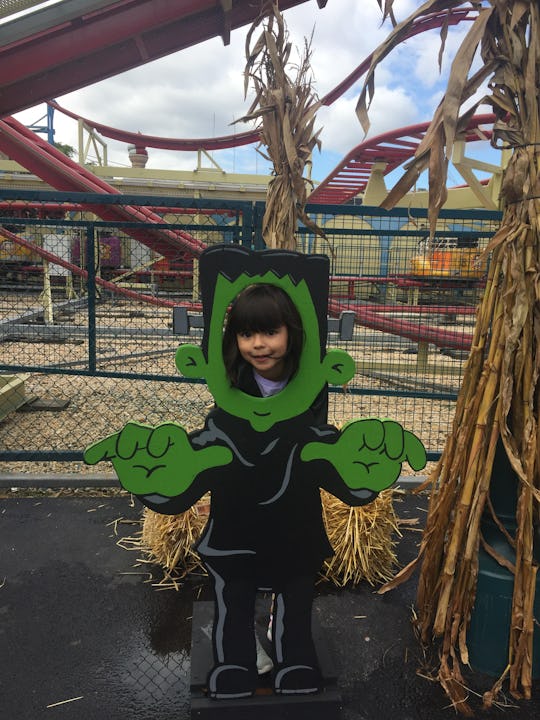 Courtesy of Cat Bowen
The Best Kid-Friendly Haunted Houses In New York City, So You Can Boo Without Tears
I love haunted houses, scary movies, haunted hayrides — all of the scarier parts of the best holiday of the year. There's something exhilarating about being terrified so badly you pee a little. My kids aren't so fond of the scarier stuff just yet, though. They do love spooky themes and costumed characters, but prefer not to be chased by a dude with a chainsaw or headless corpse. Thankfully, there's a happy medium where everyone can have fun especially with the kid-friendly haunted houses in New York City.
The kid-friendly part is an important distinction, because some haunted houses are really terrifying. When I was 9 years old, I somehow convinced my over-tired mother that going to Hannibal's House of Horror in Canton, Ohio, was a great idea. She took me, my 11-year-old sister and my 8-year-old brother to the pop-up haunted house one Friday night. To say it was a disaster is putting it mildly. I spent the whole time screaming "I'm only 9 years old," my sister kept pinching me to shut up, and at one point, my brother sucker punched a character so hard, you could hear the "oof," as the air evacuated his lungs.
Occupational hazard, if you ask me.
Don't let this be you. Also, don't let this be your kid. I'm in my early 30s and I still haven't lived it down. At least once a year, my sister will yell "I'm only 9 years old" as a punchline to a joke. The best haunted houses for kids in New York City won't make your kid a punchline in their 30, at least, not for doing something at a haunted house. I can't help it if your kid pukes on Bieber or something.