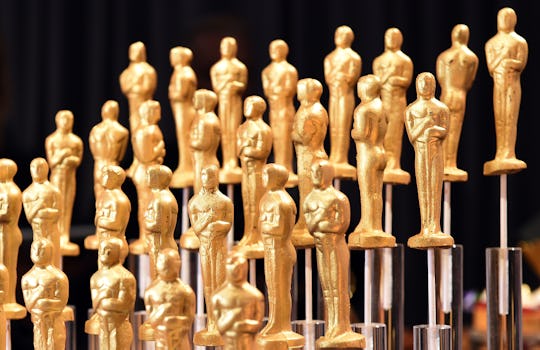 Kevork Djansezian/Getty Images Entertainment/Getty Images
The Best #MeToo Moments At The Oscars Are Proof This Movement Isn't Going Away Anytime Soon
Everyone remembers the Golden Globe Awards and the sea of black dresses from earlier this year. When the women of Hollywood (and the men who support them) decided they had enough of sexual harassment in the workplace, or any kind for that matter, they wanted to make sure their voices were heard. As Hollywood moved on and prepared for the biggest night in Hollywood, the Oscars, that movement has gained considerable momentum, but in a different way. Some of the best #MeToo moments at the Oscars had nothing to do with who wore what color or who said something defiant in a speech. In many ways, it was about the absences of some and the silence of others that made the greatest impact.
The #MeToo movement came about in the wake of a flood of allegations of sexual misconduct against disgraced Hollywood producer Harvey Weinstein, formerly of Miramax Studios. After The New York Times published an article where several well-known actresses called out Weinstein for his alleged unconscionable behavior, it was like a window opened that no one could get closed again.
Romper has reached out to Weinstein's rep about the allegations and did not immediately hear back.
Women of Hollywood and beyond started to come forward with their own stories. The hashtag #MeToo was used by women who had ever felt sexually harassed, abused, or threatened. Sadly, it spread like wildfire, giving a true scope of how many women have had to suffer in silence at the hands of sexual predators.
No more.
Changing Of The Guard
It's a long standing Oscar tradition for the Best Actor winner from the previous year to present the award for Best Actress. However, last year's Best Actor winner, Casey Affleck, who won for his performance in 2017's Manchester By The Sea, announced in January that he won't be presenting the award this year. He reportedly chose to bow out because he felt his presence would act as a distraction due to previous sexual harassment allegations levied against him by women who worked on the set of his 2010 film I'm Not There.
Romper has reached out to reps for Affleck and is waiting for a response.
Affleck's absence was filled by two actresses, Jodie Foster and Jennifer Lawrence. The first time in Oscar history two women have presented the Best Actress award.
And to that same end, the Academy announced that two women, actresses Jane Fonda and Helen Mirren, would present the Best Actor award this year as well.
The #MeToo moments didn't wait for the ceremony this year either; two actresses who accused Harvey Weinstein of sexual harassment at the onset of the #MeToo moment, Ashley Judd and Mira Sorvino. The two walked the red carpet together as dates, strong and positive and a physical reminder of the power of women.
The organizers of the Oscars announced earlier this week that a moment of silence to honor the Time's Up campaign would be observed on the stage. Time's Up was launched on Jan. 1 as a legal defense fund to help women who report sexual harassment pay their fees within Hollywood and beyond. Time's Up has been backed by some of the biggest female names in Hollywood; Reese Witherspoon, Meryl Streep, Shonda Rhimes, and Natalie Portman to name just a few. To date, Time's Up has raised more than $21 million for victims of sexual harassment. At the Oscars on Sunday, Ashley Judd, Annabelle Sciora, and Salma Hayak, and stood on the podium to introduce a short, powerful video focused on women, minorities, and other marginalized people whose voices need to be heard.
There was also the #StandUpForSomething performance with Common and Andra Day, in which 10 activists stood behind the two artists as they sang about standing up for what we truly, deeply believe in. Among the activists was none other than Tarana Burke, who created the #MeToo movement 10 years ago and before it became the viral hashtag and it is today. Sharing the stage with Burke was Alice Brown Otter, a Standing Rock activist, Bana Alabed, a Syrian refugee activist, Bryan Stevenson, an equal justice initiative activist, Cecile Richards from Planned Parenthood, Dolores Huerta, from the Dolores Huerta Foundation, Janet Mock, writer and trans activist, José Andrés, from World Central Kitchen, Nicole HIckely, from Sandy Hook Promise, and Patrisse Cullors, from Black Lives Matter.
Beyond the silence that spoke volumes and the absence of reported Hollywood heavy hitters who had been accused of sexual harassment, there were some historic moments for women during the Oscars.
First of all, this year saw a record number of nominations for women in the industry, 40 in all, which tied for the most women ever nominated in 2016.
At the end of the night, when Frances McDormand accepted her Best Actress award for her role in Three Billboards Outside Ebbing, Missouri, she asked every woman in the audience to stand with her. To represent themselves. It was a powerful moment.
There were plenty of people out there who might have preferred to watch the Oscars and ignore the #MeToo movement, to feel safe and comfortable and forget, for a moment, all of the politics of sexual harassment. Plenty of people who took to social media to decry actresses using this powerful platform to promote change, or an agenda, or whatever it was they would have preferred not to acknowledge. Perhaps they wanted time to just sit and enjoy an awards show without having to think about sexual harassment.
Time's up, folks.
Check out Romper's new video series, Romper's Doula Diaries:
Watch full episodes of Romper's Doula Diaries on Facebook Watch.