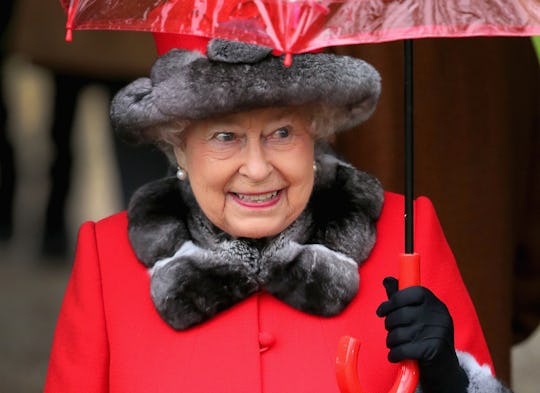 Chris Jackson/Getty Images Entertainment/Getty Images
Here Are All The Best Royal Gag Gifts Over The Years
It's that time of year again, when I decorate my house with fraying garland and try to imagine what it would be like to spend Christmas with the royal family. I like to picture lots of heavy foods covered in delicious gravy or custard, depending on whether it's main dish or dessert, and, of course, roaring fires in castles. Also presents — I like to imagine being showered with tiaras and sports cars aplenty. Unfortunately, this is actually not what I would get if I ever managed to weasel my way in there. Instead, here are some of the best royal gag gifts the British monarchy like to give each other to celebrate Christmas. Because apparently they don't really do fancy presents, more's the pity.
The royal family tends to spend every Christmas at the Queen's Norfolk estate, Sandringham. Every year she takes the actual public train to get there, because Queen Elizabeth II is nothing if not a thrift-conscious monarch. And speaking of thrifty... another of the royal family's quirky traditions is to open their presents on Christmas Eve, and the gifts have to be cheap and funny. In fact, poor Princess Diana reportedly had no clue that gag gifts were a thing and thoughtfully offered cashmere sweaters to the entire royal family the first year she was married to Prince Charles. She was apparently terribly embarrassed when the family found this funny, poor thing.
At least new bride Meghan Markle has the heads-up for this year, right? Although expectations should be high... she did apparently marry the brightest star in the gag gift giving department.
A Madcap Queen
Back in 2013, Prince Harry was still a single dude and therefore responsible for coming up with his own gift ideas without the helpful input of a life partner. To be honest, he clearly didn't need it when it came to buying a gift for his grandmother, the longest reigning monarch in the history of everything. Royal biographer Brian Hoey wrote for Wales Online that Prince Harry bought Queen Elizabeth a shower cap that read "Ain't Life A B*tch?" And she supposedly really loved it, so there you have it.
A (Toilet) Seat Fit For A King
The older generation of the royal family might give the public impression of being guarded and serious, but they really know how to let loose in private. Prince Charles, future King of England, received a very *special* gift from his younger sister, Princess Anne. Years ago the cheeky royal (sorry, I had to) gave her brother a white leather toilet seat for Christmas. I'm not going to make a throne joke.
Kate, Queen Of The Gag
While Prince Harry has a reputation for being pretty funny, it seems his gag gift crown might be in jeopardy from a surprising person... his sister-in-law, Kate Middleton. In 2011, Middleton gave then-single Prince Harry a "Grow-Your-Own-Girlfriend" kit for Christmas, and now he's married so it clearly worked. Middleton has also given some less biting, inexpensive, and sweet gifts through the years like homemade strawberry preserves for Queen Elizabeth, and handmade fishing flies for Prince Phillip.
So no pressure for Meghan Markle this year. Last year she reportedly gave Queen Elizabeth a singing toy hamster, as Elle UK noted. I hope she leans on Prince Harry to help her find as good a gag gift this year, because trying to make the entire royal family laugh on Christmas Eve with a cheap present seems pretty terrifying.
This first-time mom wants to have a home birth, but is she ready? Watch how a doula supports a military mom who's determined to have a home birth in Episode One of Romper's Doula Diaries, Season Two, below. Visit Bustle Digital Group's YouTube page for the next three episodes, launching Mondays in December.