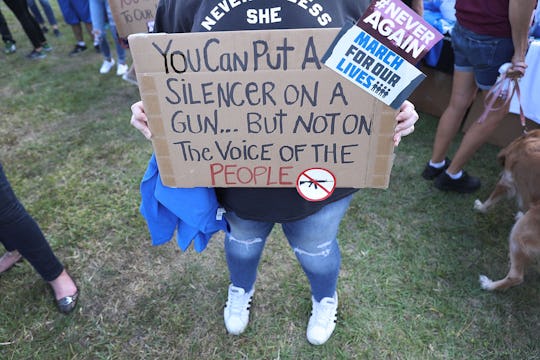 Joe Raedle/Getty Images News/Getty Images
The Best Signs From The March For Our Lives Prove These Kids Are Ready To Take On The World
Here is a brief list of things most kids might be doing with a sunny Saturday afternoon in a perfect world; hanging out with their friends. Seeing a movie. Eating junk food. And yet, there are hundreds of thousands of kids and adults who support them giving up their day for something infinitely more important. Something they really shouldn't have to be concerned about. After yet another school shooting that should have been prevented, these kids are marching for their lives. And some of the best signs from the March for our Lives events across the country are perfect examples of the thoughtful, witty, perceptive kids who are committed to making a difference in this world.
In the wake of a devastating mass shooting at Marjory Stoneman Douglas High School in Parkland, Florida on Feb. 14 that left 17 dead, it seems that the next generation has had enough of waiting. Waiting for the adults to come up with a solution to the serious issue of extreme gun violence in America and never seeing any real change. Waiting to get the news of another school shooting, always followed by more prayers and thoughts and inaction from politicians. Worst of all, waiting to find out whether or not their own school might be next. And so, on March 24 students across the country decided to march together. To refuse to be ignored. To demand a safer, saner future for themselves.
The March for our Lives campaign has a clear message, according to the website's mission statement:
School safety is not a political issue. There cannot be two sides to doing everything in our power to ensure the lives and futures of children who are at risk of dying when they should be learning, playing, and growing. The mission and focus of March For Our Lives is to demand that a comprehensive and effective bill be immediately brought before Congress to address these gun issues.
To that end, students gathered together in Washington D.C. and other cities across the country at noon on Saturday. And for anyone wondering whether or not the students who organized the marches were able to pull together some big numbers for the event... they needn't have concerned themselves. This is what Pennsylvania Avenue in the country's capital looked like on Saturday.
As students, parents, teachers, and supporters took to the streets in marches across the country and all over the world, their message was clear; the time for sensible gun control is upon us. Finally.
The best signs from the March for our Lives were at turns clever, intelligent, and sobering. Like this sign riddled with bullet holes and a dark message.
Another sobering sign referenced the Sandy Hook school shooting, where 20 small children were killed by a single gunman.
The signs these students are carrying make an excellent point about the disparity between what is regulated at school and what isn't.
There were several signs calling out the NRA (National Rifle Association) specifically, saying they have "blood on their hands" as arguably the most powerful lobbyist group with the most to lose with stricter gun control laws happen.
And while the issue of gun control in America is hardly a laughing matter... this kid's sign was something else.
For those people out there in the world despairing about "kids today," take a minute to look at what these kids are actually doing today. At their intelligence, at their concern. At their commitment to creating a better future, with or without the support of adults. They are protesting peacefully, wisely, and with a purpose.
In other words, these kids don't need us to despair for them. They just need us to back them up, because they know what they're doing.