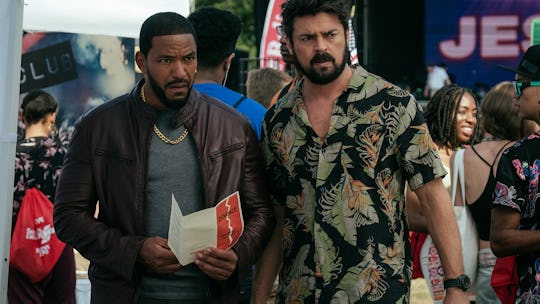 Jan Thijs/Amazon Prime Video
Yup, You've Probably Seen 'The Boys' Cast Before
Superhero television adaptations might be a dime a dozen these days, but Amazon is confident in The Boys, the company's latest venture into the over-saturated genre. At San Diego Comic-Con, Amazon renewed The Boys ahead of its Season 1 premiere on Jul. 26, and it's easy to see why. Not only is The Boys cast filled with easily recognizable stars, but the series turns every superhero trope on its head.
Based on the popular comics by Garth Ennis and Darick Robertson, The Boys follows a world where superheroes are corrupt celebrities who abuse their powers rather than using them for the greater good. In an attempt to expose them, a group of human CIA operatives — dubbed "The Boys" — band together, and of course, chaos ensues.
Speaking with Entertainment Weekly, executive producer Eric Kripke explained the superhero-regular guy dynamic that will be heavily featured in the new series.
"I want it to be graphic when it needs to be, because that's what's best for the story, but I want to tell this character story about these regular, blue-collar humans taking on these entitled, super-powered, one-percenter gods and the relationships amongst them," Kripke said.
Nonetheless, the Supernatural creator promised fans an experience they won't forget.
"It really sets out such a unique world and it's recognizable, but you've never seen it before," he said. "It takes place in the most realistic street-level version of world as possible. It just happens to have superheroes in it."
Now, if the plot doesn't have you sold on the Amazon series, then perhaps the cast will. The show is comprised of familiar faces, including one Gossip Girl alum. So hold on tight. Here is the cast for The Boys: