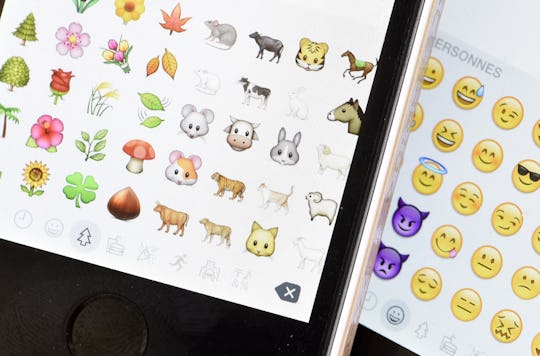 MIGUEL MEDINA/AFP/Getty Images
The Breastfeeding Emoji Is Officially Coming, & Its Addition Is A Win For Mothers
We've got some new emojis coming our way, and they are looking on point. Unicode Consortium just approved 51 emojis, and while they are all adorable, one in particular is life to busy moms everywhere. A new breastfeeding emoji is now officially on its way, and we're saying yes to a bit of sunshiney good news today. Yes to breastfeeding emojis!
So why breastfeeding emojis, you ask? Because who wants to type out the words when you can simply share an adorable picture of exactly what you're doing? Which is the most natural, beautiful thing in the world, thank you very much (I mean the breastfeeding, not the emoji, though it is amazing). The 51 new emojis created by Unicode were based on third-party requests over the past year. In fact, Nurse Rachel Lee told The Huffington Post back in October that she noticed something missing in Unicode's emoji offerings, so she sent in a proposal to the company for a breastfeeding emoji. In her proposal, Lee wrote:
The lack of a breastfeeding emoji represents a gap in the Unicode Standard given the prevalence of breastfeeding in cultures around the world, and throughout history.
Lee is well-versed in the world of breastfeeding; she works as a nurse at University College of London Hospital, where she sees neonatal nurses educating mothers on the benefits of breastfeeding all the time.
I just don't think we are exposed to it enough in society and sometimes we forget how important it is developmentally in all areas to mothers and their babies.
Preach, sister.
While there was already a baby bottle emoji available, Lee wrote in her proposal that the two methods of feeding infants are vastly different:
Using a Baby Bottle emoji as a substitute for a breastfeeding emoji would be like using a car emoji as a substitute for a bike. Both are forms of transport which achieve many of the same goals, but are clearly not interchangeable, and give a different message than intended.
Unicode approved a whole host of useful emojis, including a girl with a hijab, a meditating emoji (with palms facing up), a person climbing, a yoga emoji (with a person sitting in the lotus position), and if you're feeling fancy there's a dude with a monocle for such an occasion. Check out the full list of new emojis here.
The breastfeeding emoji in particular is sure to be one of the most popular for a few reasons; in an interview with People, Lee pointed out the breastfeeding emoji wins the numbers game hands down.
Three million mothers participate in the activity of breastfeeding in the United States at any given time. By comparison, activities such as hockey [which has its own emoji] see 67,230 women participating annually in the United States.
I'm sort of jealous, guys; of course I would be done with breastfeeding before a new emoji was released. Figures.
Enjoy, moms. It's the little things, right?