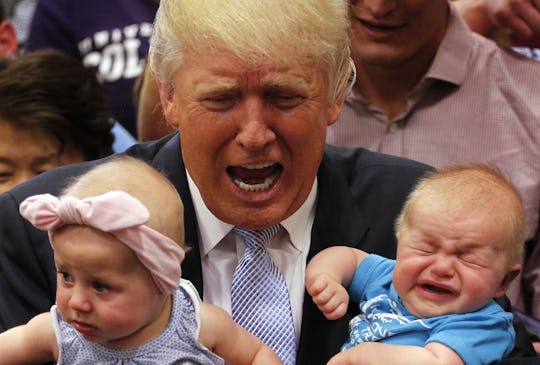 Joe Mahoney/Getty Images News/Getty Images
This Isn't The First Time The Trump Administration Has Tried To Hurt Nursing Parents
When efforts by the United States government to tank a breastfeeding resolution put forth by the World Health Organization (WHO) were revealed recently, many reacted as though the choice to weaponize breast-versus-formula debates against mothers who use social programs represented a new low for the Trump Administration. The resolution aimed to affirm the benefits of breastfeeding, which research shows provides optimal nutrition to growing babies — language the United States wanted softened, along with deletion of a commitment to truth in advertising for breastmilk substitutes, shocking global health officials. The news lead to a wave of public outrage over what many saw as an affront to families. But this isn't the first time the Trump Administration has tried to hurt parents.
Russia ended up introducing a watered-down version of the measure that made little mention of monitoring or enforcing the WHO's International Code of Marketing of Breast Milk Substitutes, which aims to curtail false and misleading baby formula advertising, Malnutrition Deeply reported. In this way, the United States succeeded in protecting the bottom line of major baby formula companies (advocates claim the government's ties with formula companies motivated the move to block the resolution). Romper reached out the U.S. Department of Health and Human Services, which leads the country's WHO delegation, for comment, but did not hear back at the time of publication.
There was also an alleged push by the Trump administration to remove language asking nations "to protect, promote, and support" breastfeeding, according to Vox.
Eliminating this language from the resolution would have created more barriers to information on breastfeeding, Kristin Rowe-Finkbeiner, executive director of MomsRising, a grassroots organization advocating for family economic security, tells Romper in an email — particularly in countries that continue to push infant formula instead of encouraging breastfeeding.
"There is simply no excuse for the Trump administration's actions – for siding with the multi-billion-dollar baby food industry over the world's moms and babies," Rowe-Finkbeiner tells Romper. "Opposing breastfeeding and attacking moms, children and families damages our economy and our country. We can, and must, do better."
But that's not the only way President Donald Trump — who once allegedly told a lawyer who left a meeting to pump milk, "You're disgusting, you're disgusting" — has attacked nursing parents and their families.
Trump has proposed rolling the Women, Infants, and Children (WIC) nutrition program, along with SNAP, into a new agency. The Special Supplemental Nutrition Program for Women, Infants, and Children — better known as WIC — is a vital resource for low-income families. Under the program, overseen by the U.S. Department of Agriculture, pregnant women, new parents, infants, and young children have access to fruits, vegetables, milk, and other healthy food products that are otherwise out of reach for many Americans. More importantly, WIC provides vouchers for baby formula to both non-nursing and nursing parents. These vouchers keep babies fed, whether formula is their main source of food or used to supplement breastfeeding.
Last month, the Trump administration proposed moving WIC and other non-commodity nutrition programs, including the Supplemental Nutrition Assistance program — or SNAP — into the Department of Health and Human Services, which would then be renamed the Department of Health and Public Welfare, according to The Washington Post. But, by rolling WIC into a broader public welfare agency, "[its] specific public health nutrition purpose will be overlooked and its collaborations with agricultural partners will be made more difficult," the National WIC Association, the program's non-profit education and advocacy, wrote in a statement opposing Trump's proposal.
More so, it could subject WIC to "cuts and further attacks" that undermine more than four decades of proven program success, NWA wrote. In other words: Low-income nursing and non-nursing parents may face even more barriers in access to baby formula and other foods needed to keep their babies happy, healthy, and alive.
"The Trump administration's constant attacks on children's health and safety are relentless, unprecedented and inexcusable," Rowe-Finkbeiner says. "It's looking like the attack on breastfeeding is part of Trump waging a War on Children, Women and Families."
Working parents, including those who breastfeed, can't afford to provide food for themselves or their children on a regular basis.
Trump has proposed radical cuts to funding for SNAP. Trump's administration has also proposed gutting SNAP's budget by nearly 30 percent — or more than $213 billion — over the next 10 years — and low-income working families with children will be among those recipients who "would bear the brunt of those cuts," according to the Center on Budget and Policy Priorities (CBPP).
How, exactly, does the government plan to reduce the program's funding? By curtailing benefits, cutting eligibility for millions of people, and restructuring how SNAP benefits are distributed, the CBPP reported.
Trump aims to replace SNAP benefits with food boxes, which experts say will threaten families' ability to access fresh, healthy food. This would be achieved by replacing half of the program's benefits with food boxes for recipients who get more than $90 a month to spend on unprepared food at grocery stores, or about 81 percent of households, according to Vox. They would be able to purchase those boxes with their benefits, which would include "shelf-stable" milk, juice, cereals, pasta, peanut butter, canned meat, and canned fruits and vegetables, and then receive the rest on their EBT card.
But food boxes are problematic for a variety of reasons, according to the CBPP. They reduce the amount of food low-income recipients, including nursing parents, would have each month, delay access to food because the delivery system would less efficient than a EBT card, and restrict the types of food they have access to, which can disrupt their health-related dietary needs.
The Trump Administration wants to tighten work requirements for those on public assistance. Under his proposal, the Trump administration wants to create a Council on Public Assistance within the rebranded Department of Health and Public Welfare, per The Washington Post. The new agency would be responsible for standardizing requirements among all public assistance programs, including implementing uniform work requirements
Imposing work requirements on SNAP is a major — and controversial — component of the Farm Bill, H.R. 2, which the U.S. House of Representatives passed by a razor-thin margin last month. Under the proposed requirements, SNAP recipients, including parents, would have to work 20 hours per week or enroll in a job-training programs, otherwise their benefits will cease. The bill also further narrows who is eligible to receive SNAP, according to NPR.
[Parents are] forced to choose between paying rent or paying their utility bill, and don't have enough left over to for groceries, including baby formula.
Most of 40-plus million people on SNAP already have jobs, according to the CBPP. But, the CBPP noted, those jobs are often low-paying, unstable, and lack benefits, which means working parents, including those who breastfeed, can't afford to provide food for themselves or their children on a regular basis. Instead, they're forced to choose between paying rent or paying their utility bill, and don't have enough left over to for groceries, including baby formula.
Yet, in defending the administration's actions regarding the breastfeeding resolution, Trump tweeted that the country doesn't "believe women should be denied access to formula." "Many women need this option because of malnutrition and poverty," he wrote.
"Actions speak louder than Trump's words on Twitter," Rowe-Finkbeiner says, "and U.S. actions have shown where the administration's priorities lay — and that's with corporations over public health."