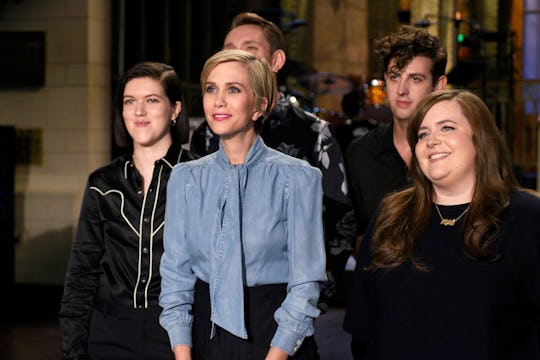 Rosalind O'Connor/NBC
The Bubble Sketch On 'SNL' Will Make You Want To Move There ASAP
During the election, there was a clear view of two totally different sides, but after it was all said and done, those who decided to reject the outcome came out in droves. Which is why the bubble sketch on SNL will make you want to move there, because it was so spot on. For every die-hard supporter of President-elect Trump, there are plenty of liberals who have now claimed, via social media of course, that they would prefer to live away from the United States, given the results of the election. But the bubble sketch on SNL has given them the chance to move somewhere else completely, which is to an independent city state for free thinkers.
The Bubble is the place for all of the Americans who flooded the Canadian immigration site once the results of the presidential election were official, because yes, that happened. Although the Bubble is a totally fictional place, Twitter was quick to want to find out how to rent one of those $1.9 million apartments currently for rent in this magical place that firefighters and police officers haven't yet been persuaded to move to. The faux ad for the Bubble ended saying that it's basically Brooklyn with a bubble on it, which just makes you want to move there even more.
The Bubble sketch on SNL described a place for free thinkers and those who want to peacefully co-exist with pretty much everyone, regardless of their beliefs or ethnicity, so it actually sounds like an amazing place to live when you think about it. The Bubble is also ruled by a totally separate currency with Bernie Sanders on it, which is exactly what you'd expect from the sort of Trump-less city state they showed.
If you're thinking about saving up the money to convert to Bernie dollars to live there in 2017, it's obviously fictional, but that doesn't mean that you can't fantasize about the place from the Bubble sketch on SNL that protects you from the world by only allowing you to access good websites and keeps you in like-minded company. You might be lost without lots of political complaints in your social media news feeds, but the Bubble is all about positivity.
The Bubble from the SNL sketch wouldn't be the worst place to live, but apparently, you can do it right now by moving to Brooklyn. Then again, you would also still be a part of the United States, so it's a give and take.