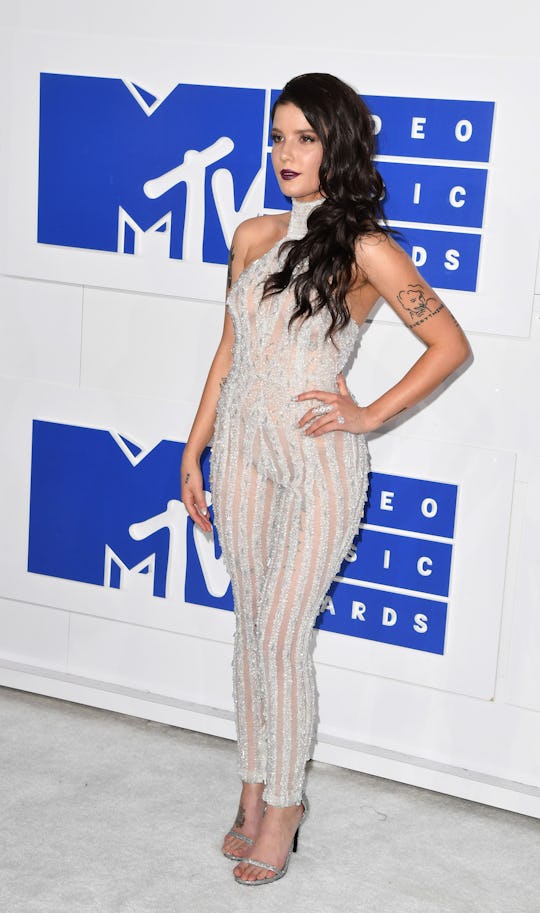 ANGELA WEISS/AFP/Getty
The Chainsmokers & Halsey's VMAs Performance Was Low On Pyrotechnics, High On Life
EDM duo Andrew Taggart and Alex Pall of The Chainsmokers burst onto the pop music scene in 2014 with their song "#Selfie." And Halsey, a 21-year-old singer, first came to prominence in 2015 with her song "Ghost" off of her Badlands album. Then the two artists converged for the song "Closer." And then they performed this song at the VMAs in 2016 and it was incredible. Chainsmokers and Halsey's VMAs performance just blew everyone's minds and solidified their spots in the pop music history books. The song, dubbed one of the best of Summer 2016, has an infectiously good beat and it's a fan favorite from the beach, to the bar, to the car, and everywhere in between.
The VMAs are probably the best night of the year for pop music, and at the very least, way more entertaining than the Grammys. They feature the best of the best of today's biggest artists, and Kanye West is all but confirmed to say and/or do something insane. (West released the song and video for his new song "Fade," but before he got to the surprise unveil, he used the extra time to talk about the importance of musicians and role models.) The VMAs are also a pretty solid barometer of exactly where the tastes of today's youth are trending, and clearly they are trending in the direction of EDM bubblegum remixes.
While it's basically impossible to follow Beyoncé's incredible takeover of the VMAs stage, not to mention Rihanna and Britney Spears' performances, The Chainsmokers and Halsey put an a fantastic and relatively low-key performance of their number 1 hit, "Closer." While many of the other performances featured elaborate set pieces, costume changes, and a veritable army of backup dancers, The Chainsmokers and Halsey opted for a more streamlined performance featuring just themselves.
Without the complex choreography of the other acts, the performers allowed their the voices to take center stage on their catchy track. The lyrics are so clever and the melody so bouncy it's almost hard not to sing along. The performance wasn't exactly soul-stirring, but it was definitely fun. The artists spiced it up with some light steaminess, including face-touching and some grabbing of the pants waistband. Overall, it was a fun, end-of-show performance. Maybe it won't be the most memorable of the night for some people, but these two artists will only grow in prominence from here on out.