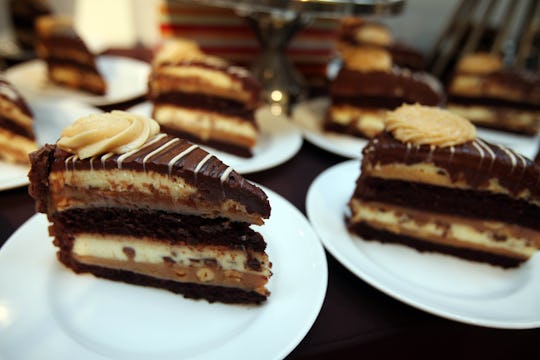 Tasos Katopodis/Getty Images Entertainment/Getty Images
OMG, The Cheesecake Factory Is Giving Away 40,000 Slices Of Free Cheesecake
Get out your elastic waistband pants and settle into your comfy socks, because I'm about to blow your mind and your diet. In celebration of their 40th anniversary, The Cheesecake Factory is giving free slices of cheesecake to the first 40,000 people who order through DoorDash on December 5, 2018, starting at 11:30 a.m. local time. Just take a moment to imagine it: 40,000 slices of cheesecake. The mind reels, does it not?
If you're lucky enough to live in the delivery area of a Cheesecake Factory, using DoorDash is going to be just the thing this holiday season. Use the code FREESLICE to take advantage of the offer on December 5... and that's only part of the deal. They're also offering free delivery from December 5 to December 11. That's a lot of crab dip, people. You do not want to sleep on this deal. But since it's for delivery, feel free to stay in your pajamas. Because, let's face it: In a situation where you're ordering Cheesecake Factory to eat at home, ostensibly away from judgmental eyes, it's really a "no pants are the best pants" type of situation. You don't want a pesky button or belt begging to be undone, and you don't want to wear your street clothes whilst eating cheesecake in bed, do you?
There's a lot to love about The Cheesecake Factory. Yes, I know, I'm a millennial, I should be busy killing chain restaurants like all the other millennials (as Business Insider reported), not bolstering their popularity by shouting out their deals. But hear me out anyway, because The Cheesecake Factory is different. For one, has any other chain had their menu read by Neil Gaiman? No Tiffany, they haven't. Also, I am a bit of an expert on spinach dip. I've been eating it since I first sprouted teeth, and it is consistently one of the things I love most in life. I will admit that my level of basic is one so rarely achieved in someone who lives in Brooklyn, but I care not. It is one of the best appetizers ever, and this is a hill I'm willing to die on. The Cheesecake Factory makes the best hot spinach and cheese dip. It's hot salty-cheesy-spinach-and-artichoky goodness, and anyone who disagrees can fight me. I suggest adding this to your DoorDash order.
As for Cheesecake Factory's free cheesecake slice, your options are many. I love the mango-lime cheesecake, but my husband prefers the Godiva chocolate cheesecake. My son could literally just open the cheesecake menu, close his eyes, and point to something, and he'd be unspeakably happy. You also may not want to get near his mouth when he's eating it. That's a good way to lose a finger.
Forty years for The Cheesecake Factory is a pretty big deal. When most stores are closing outlets and struggling to stay afloat, The Cheesecake Factory with its over-the-top decor and menu the size of Montana is opening new stores all the time, as the number of locations listed on the website proves. If you've never been inside of a Cheesecake Factory, you are missing out. To say that it is intense, would be putting it mildly. It's part Vegas casino, part Venetian palace, if that Venetian really, really loved uplighting and crayons. It's a lot to take it, but that is truly a part of the experience.
However, for this deal, the only environment you need to be concerned with is your own. Remember to use DoorDash and the code FREESLICE when ordering on December 5 so that you can get your free cheesecake. And if you order it to your office, do not feel obligated to share. That's your cheesecake and you can enjoy every single bite. Although, let's be honest, the slices are enormous, and you might have leftovers for later (which is amazing).
This first-time mom wants to have a home birth, but is she ready? Watch how a doula supports a military mom who's determined to have a home birth in Episode One of Romper's Doula Diaries, Season Two, below. Visit Bustle Digital Group's YouTube page for the next three episodes, launching every Monday starting November 26.