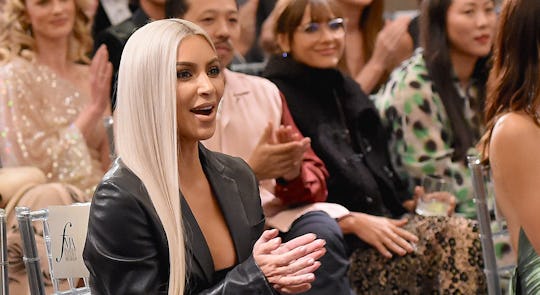 Nicholas Hunt/Getty Images Entertainment/Getty Images
The 'Chicago P.D.' Show's Response To Kimye's Baby's Name Is The *Best*
Revealing a new baby's name is always exciting, and this excitement is increased tenfold for celebrities such as Kimye. So when Kanye West and Kim Kardashian-West revealed their new daughter's name, it's no surprise the moniker received all kinds of responses, some from unexpected sources. In fact, the Chicago P.D.'s response to Kim Kardashian's daughter's name is hilarious and also kind of heartwarming.
When Kim revealed that her daugher's name is Chicago on Twitter, the internet wasted no time in losing its entire mind. The Kardashian-West family is no stranger to striking names, as the couple's previous children are named North West and Saint West, so it sounds like Chicago West will fit right in. Of course, the second the news dropped, all of Twitter exploded with reactions to the new baby's name, as could only be expected. But possibly the best reaction of all came from the Twitter account for Chicago Fire, an NBC drama that follows the lives of the firefighters, rescuers, and paramedics of Chicago Firehouse 51. It's an intense, serious show. But apparently, the person running the show's Twitter account is a Kimye stan who immediately responded — as all good fire fighters do — to the baby name announcement in the best way possible.
Not to be outdone, the Chicago P.D. show's Twitter responded at once.
It's a perfect tweet, and to be fair, Chicago West could definitely be a new drama on NBC this fall. I would watch that show, and I'm sure millions of others would tune in. Of course, the Chicago Med team couldn't stay out of the conversation. Their response was a little more incredulous.
Then ChicagO Fire (emphasis on the O) tweeted to express their general excitement at the entire magical conversation.
The whole Twitter thread took place in about five minutes, but it's already iconic. At least fans of the three TV shows will have another reason to use their #OneChicago tag.
Really, though, how many U.S. cities inspire a host of hit TV shows and also a celeb kid's name? Congrats to the Windy City.
Chicago West's name is hardly the only remarkable fact about this newborn. In fact, Chicago was carried to term by Kim Kardashian-West's surrogate, and the star has been very candid about this emotional and poignant decision. Because she was faced serious health risks from her previous pregnancies, Kardashian-West chose to use a gestational carrier. Her public and honest decision to have her third child via a surrogate has helped dispel myths, as well as invite more open conversations, about the realities of surrogate pregnancies.
The Kardashian-West family already has two siblings for Chicago. Their eldest daughter, North West, was born in 2013, and middle child Saint was born in 2015. With a four-year-old, a two-year-old, and a newborn in the family, the Kardashian-West group is growing fast.
But it looks like this branch of the Kardashians isn't the only one welcoming new babies in 2018. On December 20, 2017, Khloe Kardashian confirmed her pregnancy in an Instagram snap. Then she announced the pregnancy on a recent episode of Keeping Up With the Kardashians, resulting in floods of happy tears from her surrounding family and friends.
Another member of the Kardashian-Jenner family, Kylie Jenner is widely speculated to be pregnant as well. The popular Instagrammer and Lip Kit creator hasn't confirmed anything yet, but she's been relatively quiet on all media fronts for the past few weeks. Her silence has only fueled the is-she-or-isn't-she speculation all over the internet.
Whatever the case, it looks like Chicago West is destined to grow up in a big family with plenty of young siblings and cousins to play with. Whether the Kardashian-West family will give future children names tangentially related to popular NBC shows remains to be seen.
Check out Romper's new video series, Romper's Doula Diaries:
Watch full episodes of Romper's Doula Diaries on Facebook Watch.