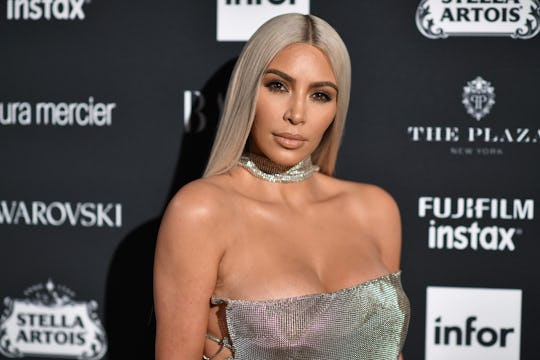 Dimitrios Kambouris/Getty Images Entertainment/Getty Images
Kim Kardashian Pens A Heartfelt Post About Using A Surrogate, & Her Honesty Is Beautiful
As many fans of Kim Kardashian already know, her journey to having a third child hasn't been easy. From struggling with high-risk conditions to dealing with fan backlash about using a surrogate, Kardashian has had a lot to contend with, to say the least. And Kim Kardashian's heartfelt post about using a surrogate she shared to her app on Thursday is a must-read for parents going through a similar experience.
Just a few days after Kardashian and her husband, Kanye West, welcomed their second daughter (the name is still unknown, guys) into the world, she wrote a very candid note to her fans about why she chose to use a "gestational carrier" for the pregnancy. The note, which will likely resonate with parents who also used a surrogate or are thinking about using one, is as informational as it is emotional.
In the first few paragraphs of the post, titled, "The Truth About My Pregnancy Decision," Kardashian informed readers about surrogacy, including a bit about the difference between a surrogate and a gestational carrier. And, of course, Kardashian also got real about the issues that led her to opt for a gestational carrier as opposed to carrying the baby herself.
Kardashian wrote, according to her app:
I have always been really honest about my struggles with pregnancy. Preeclampsia and placenta accreta are high-risk conditions, so when I wanted to have a third baby, doctors said that it wasn't safe for my—or the baby's—health to carry on my own.
After exploring many options, Kanye and I decided to use a gestational carrier. Although I have used the term surrogate in the past, a gestational carrier is actually the technical term for a woman who carries a baby that she has no biological relationship to. A traditional surrogate donates her egg, is artificially inseminated with the father's sperm and then carries the baby to term. Since we implanted my fertilized egg in our gestational carrier, our baby is biologically mine and Kanye's.
Kardashian then pivoted into whether she and West chose someone they knew as their surrogate or if they went the agency route. She revealed:
You can either choose someone that you know or you can go through an agency, like Kanye and I did.
Translation: Kardashian didn't use Kylie Jenner as her surrogate. Can all the conspiracy theorists finally put this rumor to bed now? I repeat: Jenner did not carry Kardashian's third child.
After Kardashian debunked the persistent Jenner-surrogate rumor, she served up some much needed truth bombs on what it was like to use a gestational carrier after carrying her two other children, North and Saint West. She explained to fans (and her haters):
Having a gestational carrier is definitely different, but anyone who says or thinks it's the easy way out is completely wrong. People assume it's better because you don't have to deal with the physical changes, pain or complications with delivery, but for me it was so hard to not carry my own child, especially after I carried North and Saint.
Preach, girl. It's so great that Kardashian is bringing awareness to the plight of parents who have no other option but to use a surrogate or gestational carrier, and why it's not fair or accurate to assume that parents who go this route don't experience personal hardships of their own.
Not to mention, Kardashian explicitly stated in the past that her "biggest fear" about using a surrogate was whether she'd "love" all of her kids "the same," according to People. So, it's pretty commendable that Kardashian alluded to those fears again in this post.
Lastly, Kardashian gave sweet shoutout to her gestational carrier (and modern technology) for giving her the "greatest gift one could give." Cue the awws, people.
Kardashian closed out the message, according to her app:
I'm so grateful for modern technology and that this is even possible. It's not for everyone, but I absolutely love my gestational carrier and this was the best experience I've ever had. Our gestational carrier gave us the greatest gift one could give. The connection with our baby came instantly and it's as if she was with us the whole time. Having a gestational carrier was so special for us and she made our dreams of expanding our family come true. We are so excited to finally welcome home our baby girl.
So sweet.
And as for why Kardashian decided to write such an honest and open note about her journey, I have a few theories.
For starters, Kardashian debunked a lot of pesky and annoying rumors in the note, like the Jenner surrogate rumor and the incredibly rude theory that West fathered their new infant daughter with a supposed mistress.
Secondly, I think Kardashian genuinely wants to bring awareness to surrogacy and the issues many parents go through when they can't carry or conceive a child on their own. It goes without saying that Kardashian's informative note will likely comfort a lot of people going through a similar experience.
But most of all, it's just nice to hear that Kardashian is happy and that her newborn daughter is doing well. That's all you can hope for, right?
Check out Romper's new video series, Romper's Doula Diaries:
Watch full episodes of Romper's Doula Diaries on Facebook Watch.