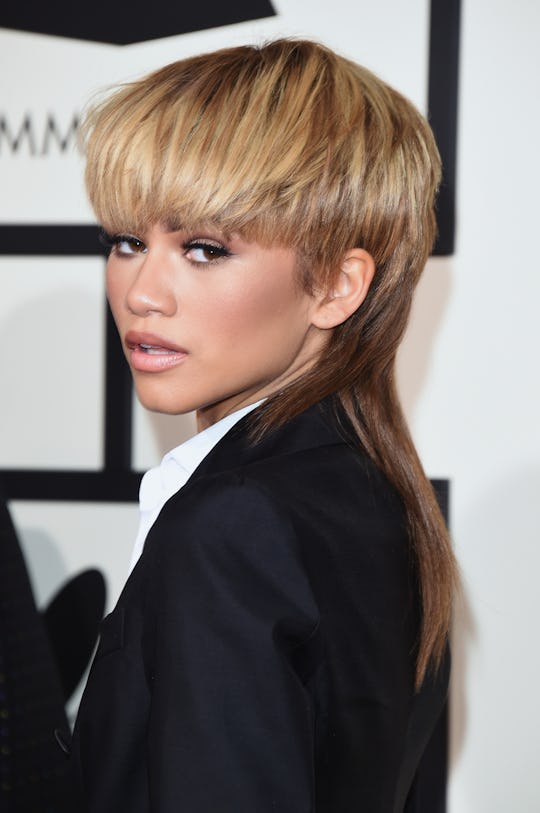 Jason Merritt/Getty Images Entertainment
The Craziest 2016 Grammys Red Carpet Looks Included Lots Of Amazing Bowie Tributes
Monday night marked the 58th Annual Grammy Awards. While the awards ceremony itself never disappoints, the craziest looks from the 2016 Grammys red carpet included the most gorgeous and eclectic looks that celebrities managed to round up. Past memorable Grammy looks have led to wardrobe mishaps and wardrobe envy, from Jennifer Lopez's 2000 Versace dress (I will never forget it) to Kim Kardashian's glittery seashell-bathrobe combo in 2015.
This year, celebrities wore some David Bowie-inspired outfits to commemorate the "Space Oddity" star's passing in January. Lady Gaga channeled some "Life on Mars" vibes, while Zendaya walked the red carpet in a Ziggy Stardust-esque suit, hair in a blonde mullet. Others kept their outfits fairly classic, with lots of flowing dresses, sharp suits, and simple, subtle make-up (although Taylor Swift definitely dipped into '90s territory with her pink and red ensemble, sparking some 10 Things I Hate About You comparisons).
Still, there's always several out-there outfits on the red carpet, and this year was no exception. Check out this year's Grammys looks, which included everything from red hair to feathers:
Ciara's Gorgeous Dress Had Some Serious Mishap Potential
Lady Gaga, Channeling David Bowie
Ariana Grande Was Clearly Wearing Some Intense Heels
Florence's Embroidered Pink Dress
Elle King Wore Leather, Fringe, & Feathers
Still, I didn't see any truly cringe-worthy outfits, or accessories that could poke someone's eyes out, so I'd say this year was rather tame on the red carpet.