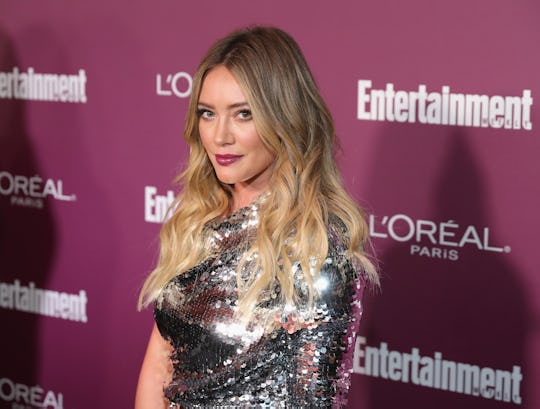 Neilson Barnard/Getty Images Entertainment/Getty Images
People Are Debating What Pregnant Hilary Duff Should Or Should Not Be Eating
Hilary Duff took to Instagram on June 8 to announce she and her boyfriend, Matthew Koma, are expecting a baby girl. And ever since Duff shared the exciting news, fans have been especially curious about her pregnancy. Although the interest is understandable (who doesn't love Lizzie McGuire?), some people are too invested in Duff's life choices these days. Case in point: fans are debating whether Hilary Duff should eat sushi while pregnant. Get ready to roll your eyes, people.
Duff is the type of person who is all about self-care during pregnancy. From trips to the beach with her 6-year-old son, Luca, to rocking loose clothing, Duff is all about living her best life at the moment. As for Duff's most recent exercise in self-care, she took to the Tomoko Spa in Beverly Hills on Wednesday to enjoy some quality R&R.
"Had the dreamiest of nights with this babe @tomoko_spa + @moflo1," Duff captioned a boomerang video of herself hanging out with a pal, according to Instagram. "Wooooow weeeee #couplesmassage lol #tomokospa."
In the background of the clip, you can see the fixings of a relaxing day — robes, a couch for pedicures, and sushi. Please transport me to this literal heaven on earth ASAP, please.
Sadly, mom-shamers had an absolute field day with the video because people can't let Duff live.
"Wait sushi when you're pregnant?" one fan asked, according to Instagram.
"Veggie only sushi I hope..., no sushi while pregnant," someone else added.
Another person chimed in: "Hey Hilary is super risky eat sushi when women are pregnant."
Yep, it looks like the pregnancy police was out in full force during Duff's spa visit. The problem is, however, it's not clear what type of sushi Duff ate or if she even ate the delicious grub. Not to mention, the sushi could be veggie sushi — an avocado or cucumber roll sounds like an incredibly refreshing pregnancy snack to me. Duff did not immediately respond to Romper's request for comment.
Plus, not all sushi for pregnant people is off-limits. Tempura sushi is fine because it's cooked, and some doctors will allow their patients to eat raw sushi with restrictions.
But most of all, Duff is a 30-year-old woman who can make her own decisions. I highly doubt Duff would ever put her unborn child in harm's way, and it's no one's business what she eats while pregnant. All of the negative comments in response to Duff's video perfectly sums up why parents are fearful of social media these days. It's rare that a parent — famous or not — can post a pic without some sort of recourse.
The upside to this mom-shaming debacle is it's clear Duff has a lot of supporters in her corner.
"Okay, but how can you tell that Hilary's even eating raw sushi lmao," one fan said in response to a hater.
"Eating sushi while pregnant isn't necessarily bad though, as long as it's in moderation," someone else said. "But it's not your body and not your kid."
"Educate yourself on what sushi is," another person chimed in. "It's not all raw high mercury sodium miscarriages in a wrap."
Others praised Duff's decision to treat herself to a spa day complete with sushi.
"I wanna have a take home sushi night like this," one person said.
"Yum I want sushi now," someone else agreed.
A commenter penned: "Sushi and spa day is perfect."
Obviously, this debate really isn't about sushi — it's about questioning Duff's judgment. And does any parent really have the authority to question another parent's choices, especially when it's based on one short video? I think not. So, here's to hoping fans let Duff enjoy the rest of her pregnancy in peace.