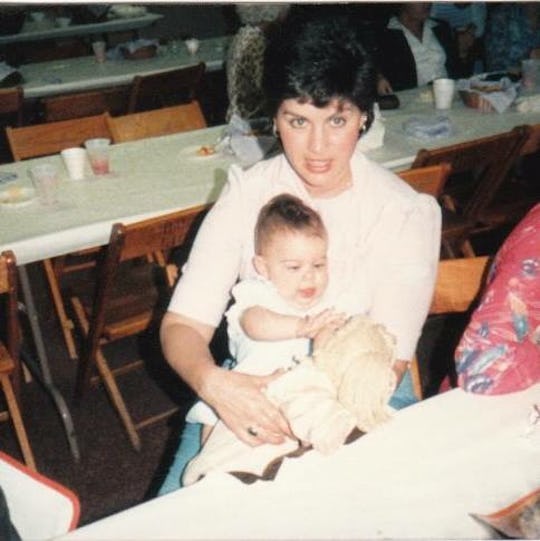 Karen St. Esprit with her daughter. Photo courtesy of Karen St. Esprit
The Defining Moments Of Parenthood Aren't Necessarily The Milestones You're Thinking Of
It's hard to imagine anything could outdo meeting your baby for the first time in terms of defining lifetime moments. Every woman remembers the moment she first "became" a mother — when her child was placed into her arms, when her world tilted on its axis. But after birth comes the first word, first step, first tooth, first day of school, the first time we rush them to the ER — whether an over-reaction or a legitimately terrifying emergency. Childhood barrels past us with milestones and moments of inflection — look beyond those first few years and you continue to grow, with experiences that rival those early days. So what does parenthood look like when you child is grown? What breaks our heart, and what causes us to swell with pride? When you are decades out from birth, what have the defining moments of parenting become?
Turning to several mothers, whose children are millennial-aged adults, opens up a world beyond teetering first steps and gap-toothed smiles. As our kids grow, the emotional weight of life events can rival that of the early years.
Jan Rodgers, a mother to four adult children, immediately has her thoughts drift to two specific moments of parenthood. "Watching my child take the oath of a military officer, and when she came out to me as gay." When her daughter took that oath with her fellow airmen, Rodgers says, "Honestly, I wanted to stand up and declare that she didn't mean it, she couldn't promise to put her life second to the lives of her fellow airmen and the defense of our country. It was not my choice, but it literally took my breath away." Rodgers had not heard the oath until she was actually at the commissioning ceremony. She remembers tears welling up when she realized the weight of those words.
It really all made me realize that these are their lives, not mine.
Aside from the oath to risk her life, the other moment that stands out to Rodgers is when her daughter came out to her.
"This wasn't a big deal to us, two of my brothers are gay, but I know for some families this would be a rock crusher... the lesson here for me was that biology is stronger than a parent. When you truly and non-judgmentally love your child, it doesn't matter. They are still the same person and their sexuality is just one part of that person."
She says it was harder to learn about her daughters' tattoos. "But it really all made me realize that these are their lives, not mine."
Rodgers did worry about discrimination that her daughter would face, and has worried more since the 2016 election. Her daughter and daughter-in-law have been harassed walking around their community with their children, and that is terrifying to Rodgers.
"Mothering never ends and does expand in grandmothering, but at a distance, removed. I bite my tongue a lot, but not enough. What has been interesting is watching your children grow into their parenting roles both quickly and gradually."
Betsy Reese, a mother of three adult children, echoes Jan's sentiment that having a child join the military was defining for her. "When Robert left to join the Navy, I learned that an important part of parenting is letting go."
Even more impactful for Reese was when she got to witness and take an active role in the birth of her first grandchild. "Jennifer, my middle child, showed me how great it was to get to experience that. I got to cut the umbilical cord. When I gave birth to my children I was overjoyed, but nothing prepared me for the overwhelming love I experienced."
Grandparenthood added a whole new dimension to Reese's life.
Reese's children have a wide age range, and she notes that going back to babyhood after so many years out of it was unexpected. "But when [her third child] arrived, she wasn't planned, but she gave me a reason to keep going after the mills closed," when things felt desperate and a bit hopeless in Reese's life. Parenting different stages at the same time can be difficult but for Reese it was a blessing.
Also a mother of three kids who have left the nest, Karen St. Esprit says she never could have predicted what would be hardest about parenting adults. "Watching your adult kids make bad decisions, and staying out of it, is so hard. I watched one of my kids drive across the country for what I knew was a dead-end job, and I had to let them go. It was excruciating. I was there for them when they came back home, though. After it didn't work out."
Raising your children, instilling values and work ethic in them, and then letting them go into the world to see if they can apply those skills was hard for St. Esprit to execute. "You do your job, and you never stop parenting of course, but you need to let them go to make mistakes. Kill me before you hurt my kids, but sometimes they are the ones hurting themselves."
Being a mother was great, but there is nothing like being a 'Gaga.'
The rewards, though, for St. Esprit are worth it. A grandmother to six children age 6 and under who all live local to her, means that her days revolve around little ones once again.
She also feels that grandparenthood is an outsized blessing. "Being a mother was great, but there is nothing like being a 'Gaga.' Life takes on a whole different role."
When her grandkids come over, St. Esprit likes for them to leave the toys out when it's time to go home. "You don't realize, 'til they are grown and gone, how sometimes the mess can be comforting. I miss seeing toys all over."
The women Romper spoke to say that motherhood's challenges and rewards continue to get tougher and bigger as your children grow. It can be hard to fathom the impact distance will have on you when the furthest you've gone from your baby is the next room, but it's a good reminder that when older moms tell you not to sweat the small stuff, they have a slightly broader view on the whole parenting thing.