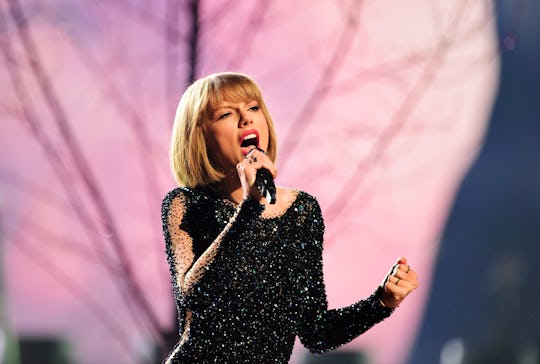 ROBYN BECK/AFP/Getty Images
The Director Of Taylor Swift's Video Had This To Say About Beyonce Comparisons
After dropping her first single from her new album, Taylor Swift released a short clip of the video for "Look What You Made Me Do." Immediately, people on Twitter began to point out that there was some similarities between Swift's video and the video for Beyoncé's "Formation." It was likely not the response that Swift was expecting. On Friday night, though, the director of Taylor Swift's defended the Beyonce comparisons in a few tweets.
The director, Joseph Kahn, tweeted, "I've worked with Beyoncé a few times. She's an amazing person. The #LWYMMDvideo is not in her art space. Love and respect to Bey." He added in a second tweet, "Also there's something to that "formation" shot I painted out and you haven't seen yet. Stay tuned Sunday."
That's a pretty fair response for now, especially since fans were making judgement calls about the aesthetic of Swift's video based on a mere glimpse. Though, to be fair, the glimpse they got was a scene in which Swift and her dancers stand in a way very, very similar to that of Beyoncé and her dancers in bodysuits and tights that look pretty similar to Beyoncé's in her "Formation" video.
But who knows!? The full video might be nothing like the rest of Bey's work. Or maybe the full "Look What You Made Me Do" mimics or parodies other famous videos. Seriously — it could be anything. And if the director feels comfortable to not have plagiarized or appropriated a look, that's all there is to work with for now.
Kahn worked with Beyoncé on Destiny's Child "Jumpin' Jumpin'" and "Say My Name." He's also done Swift's videos for "Bad Blood," "Blank Space," "Wildest Dreams," and "Out of the Woods." So the two artists, Kahn and Swift, are definitely on the same page when it comes to making art together.
Still, the similarities were way too much for the Bey Hive, which immediately called out what they saw as yet another instance of a white woman appropriating a black woman's art.
If the video turns out to be a blatant rip off of Swift's work, it would be a major shame. And could be really bad for the artist, who hasn't had an album since 1989 came out in 2014. Not a great way to make a comeback. Or maybe not. Since the song came out on Friday, the lyric video has been watched 28.5 million times, making it the most watched lyric video in YouTube history.
In addition to that, the track was downloaded 200,000 times, which has some experts predicting that it will land on the Billboard charts and stay there, possibly breaking Adele's record for "Hello." Swift's fans are dedicated, for sure, whether her video looks like "Formation' or not.
Hopefully, it's all Taylor.