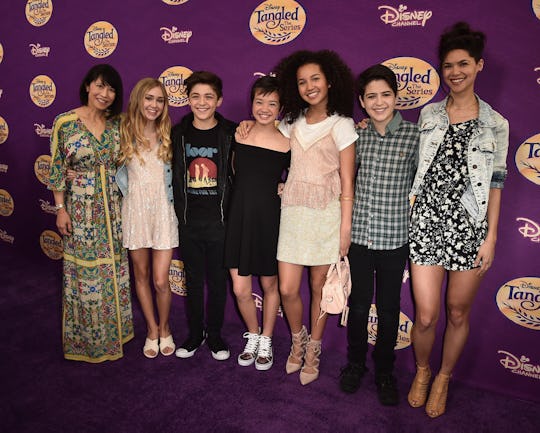 Alberto E. Rodriguez/Getty Images Entertainment/Getty Images
The Disney Channel Is Making History With Its First-Ever Coming Out Storyline
Too often, kids who identify as LGBTQ (or who are in the process of discovering how they identify) are left to feel like they're different when the vast majority of the books they read, TV shows they watch, and celebrities they admire are or present as straight, straight, straight. That's why it's such a big deal that the Disney Channel will feature its first coming out storyline on the popular tween show Andi Mack. During the Season 2 premiere on Friday, one of the young characters reportedly recognizes he has a crush on another boy and confides to a friend about it, and such a story arc could not be more appropriate (or potentially liberating) for preteens or young teenagers.
Andi Mack already caters to a relatively mature audience, as it centers around the 13-year-old titular character's coming-of-age journey after she finds out that her older sister is actually her mother, according to The Los Angeles Times. But the emergence of a gay character — in this case, it's Cyrus, one of Andi's best friends — beginning to understand his own sexuality will be relatable to a wider portion of the audience, that's for sure.
It's a major step forward, and Disney knows it. "In the season premiere of #AndiMack, a teen girl and her friends model inclusion and respect for others," the channel's public relations account tweeted Wednesday.
More than 7 percent of millennials identified as LGBT in 2016, according to Gallup data, and one recent report found that less than half of the younger Generation Z identify as exclusively heterosexual. So, you'd think that this Andi Mack coming out storyline would be par for the course by this point. But it's not: The show Good Luck Charlie made headlines when a lesbian couple appeared in a January 2014 episode. They were the first same-sex couple ever to appear on the Disney network, E! News reported.
Representation has begun to emerge elsewhere in the Disneyverse, too. The LeFou of the live-action remake of Beauty and the Beast this year was openly gay, for example.
Still, the upcoming Andi Mack storyline feel different, as it will show a kid going through something so many kids and young adults do: figuring out whom he's attracted to, knowing that this makes him "different," and letting a friend in on it anyway. It's an exciting concept for 15-year-old Joshua Rush, who plays Cyrus on the show, as he shared in an Instagram post:
Starting conversations about trust, love, relationships and family dynamics is easier when you have a show that you can relate to. Andi Mack gives young people and their parents, mentors, and champions a meaningful way to talk about these topics and the power to decide their futures. I'm so proud to bring Cyrus' groundbreaking storyline to life and for you to see what we've been working on.
Disney reportedly consulted with child development experts as Andi Mack creator Terri Minsky — who also created the millennial fave Lizzie McGuire — and the rest of the team developed the episode. Clearly, the network is making a point to make a real difference for real kids. And chances are that it will.
In an essay for The Odyssey Online, Jay Loscar wrote that stumbling across gay characters in the young adult fantasy series Abarat as a kid helped her eventually embrace her own identity as a bisexual woman — even when her parents didn't. "... [T]his early experience showed me that people feel the way I do too," she wrote, adding that other non-straight media representation was a "life raft" for her growing up. "Seeing gay people was the first step to realizing what it all meant for myself."
During the 8 p.m. series premiere Andi Mack's Cyrus could become that life raft for scores of kids. And that's a really big deal.
Watch Romper's new video series, Romper's Doula Diaries:
Check out the entire Romper's Doula Diaries series and other videos on Facebook and the Bustle app across Apple TV, Roku, and Amazon Fire TV.