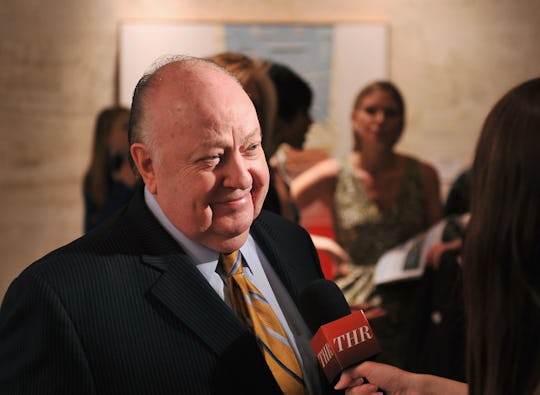 Stephen Lovekin/Getty Images Entertainment/Getty Images
You Won't Believe Who The Emmys Decided To Honor During Their In Memoriam This Year
There's a lot to unpack about the way that the Academy of Television Arts & Sciences chose to memorialize the departed this year. The live music, the weird picture frames, the guy accused of sexual harassment... Wait, what? Yes, the Emmys honored Roger Ailes "In Memorium," and Twitter was not OK with it. And while viewers weren't lucky enough to be treated to an audience reaction shot, there's certainly something to be inferred from the fact that every other actor, writer, producer, or seemingly-nice gaffer you've never heard of got something between a cheer and a polite smattering of applause, but Ailes' photo was met with stunned silence.
To recap: Ailes was the co-founder, chairman, and chief executive of Fox News, which is enough to make him persona non grata among Hollywood's mostly left-leaning base. But when former Fox News anchor Gretchen Carlson filed a lawsuit accusing Ailes of sexual harassment in 2016, it opened the floodgates and, as a result, at least half a dozen former Ailes employees came forward with similar public claims against the late producer, alleging that he'd pressured them to enter into sexual relationships with him in order to further their careers, according to Axios. Some say they acquiesced, while others claim that they didn't, and were punished accordingly. Ailes denied any wrongdoing.
Ailes has also been accused of cultivating a culture of sexual harassment at Fox News. Recently ousted host Bill O'Reilly has a bevy of his own accusers (he also maintains his innocence), and Francisco Cortes, vice president for Fox News Latino, was terminated after being accused of allegedly sexually assaulting a contributor, according to the New York Times. Cortes, like Ailes and O'Reilly, denies the allegations against him, but as of April 2017, the network has paid out $85 million in settlements and severance packages as a result of the accusations, according to Newsweek.
More than two dozen women eventually accused Ailes of sexual harassment in about two weeks' time, according to New York Magazine, before he walked away from the network with a $40 million payday in July 2016, Marketwatch reported. In May 2017, Ailes suffered a fall at the Palm Beach mansion he bought with that golden parachute and succumbed to complications from a subdural hematoma eight days later. He was 77 years old, reportedly worth $100 million, and never saw a day in court. Four months after his death, he was honored at the Emmys alongside the likes of Jerry Lewis, George A. Romero, Adam West, and Mary Tyler Moore.
I think it's safe to assume we've all heard that trope about not speaking ill of the dead, but couldn't the producers have "forgotten" to include Ailes? Or maybe ruled it out on the grounds that he wasn't so much in the "entertainment" business, more like the "put a super conservative spin on the news and try to get America to believe their president is really Kenyan" business? At least, that's what Twitter had to say (among other things):
This is what I imagine Anna Chlumsky, 2017 Emmy Awards Reaction Shot M.V.P., looked like when she saw Ailes' photo on the screen.
Well, at least someone's keeping their sense of humor about this.
I'm sure this gentleman's attitude was reflected in the crowd, as well.
Seriously, how awkward do you think it was for Christopher Jackson to serenade Ailes live on stage?
Who was making this face while the cameras weren't rolling? Place your bets.
I'm sure she was doing that at home in real time. I mean, positive.
So true, and I hope her family didn't see that.
This! This right here is the face that I, personally, made, if you were curious.
She's got a point. We're not gonna do this for Bill Cosby in a few years, are we? Guys? Are we?
Watch Romper's new video series, Romper's Doula Diaries:
Check out the entire Romper's Doula Diaries series and other videos on Facebook and the Bustle app across Apple TV, Roku, and Amazon Fire TV.