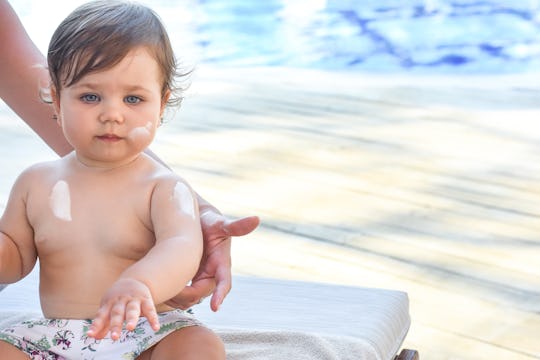 Tekkol/Shutterstock
The 2019 EWG Safe Sunscreen Guide Is Here To Help You Enjoy The Sun Safely
Each year, the summer sun comes blazing into our lives with a fury like no other. Ensuring that you and your loved ones are safe while having fun in the sun is priority number one. This means plenty of hydration, proper clothing, and of course, using a good sunscreen. The 2019 Safe Sunscreen Guide from the Environmental Working Group (EWG) has released this year's sunscreen guide, complete with everything parents need to know when choosing sunscreen for their family that is safe and effective.
The EWG's 13th annual guide is chock full of anything and everything you want to know about what is in your family's sunscreen. Their researchers have painstakingly assessed more than 1,300 sunscreens to compile a master list of sunscreens and sun protectant moisturizers based on efficacy and safety. Their user-friendly web database makes it easy for you to browse through your favorite brands to quickly see how they stack up based on factors like their ingredients, SPF rating, and how well they meet the FDA's sunscreen safety standards.
In February, the FDA proposed new sunscreen safety standards based on updated scientific research surrounding sun safety. Although sunscreens on shelves this summer do not have to adhere to these proposed guidelines just yet, the EWG has taken them into consideration for their sunscreen guide. "The new proposed FDA rules underscore concerns with the sunscreen industry that EWG has been highlighting since we published our first sunscreens guide in 2007," Carla Burns, EWG research analyst tells Romper. "Similar to the main points in the FDA's proposed rules, EWG has always advocated that mineral-based actives are the best option when it comes to ingredient safety and efficacy, that products with high SPF can be misleading consumers and can promote overexposure to damaging UVA rays, and that UVA standards need to be strengthened."
To get your family ready to celebrate the sunshine, grab one of these top-rated sunscreens or explore the other great options listed in the EWG's guide this year.