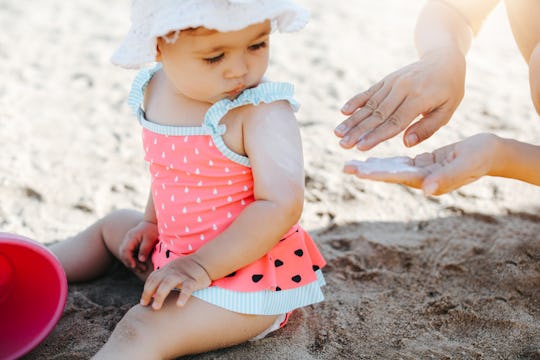 ozgurcankaya/E+/Getty Images
Here Are The Best Sunscreens For Babies According To The EWG's 2020 Guide
Summertime is the best time to have a baby. It doesn't get much better than splashing around in the sunshine with your little one — but it doesn't get much worse than trying to comfort a sunburned tot. You want to find the best sunscreen possible to protect your baby's delicate skin, but it can be tricky with so many options on the market. Luckily, the 2020 Safe Sunscreen Guide from the Environmental Working Group (EWG) is here, filled with tips for staying protected, research reports, and an overview on current sunscreen standards, including the best sunscreen options for babies in particular.
First, the unsettling news: The EWG has heavily researched the safety of ingredients and the efficacy of various sunscreens, and there are quite a few brands lining store shelves that their experts don't recommend. Research Analyst Carla Burns tells Romper that product marketing is misleading when it comes to SPF value, which is important to parents. It might seem like SPF 100 provides twice as much protection as SPF 50 (which protects the skin from 98% of UVB rays), for example, but it actually only provides 1% more (99%).
When it comes to a baby's sensitive skin, SPF isn't the only thing parents should consider when selecting their sunscreen. Burns recommends selecting sunscreens that are fragrance-free and made using mineral-based ingredients like zinc oxide and titanium dioxide, which are the only two commonly-used ingredients found by the EWG to be both safe and effective. Additionally, she notes that sunscreen alone is not enough protection for babies (or anyone, really). Babies should also be wearing hats and tightly-woven (but loose fitting) clothes. Keep them in the shade as much as possible, and avoid mid-day sun exposure (from around 10 a.m. to 4 p.m.). Generously apply sunscreen to your baby's skin 15 minutes prior to going outside and every two hours after that (or after each dip in the water or towel dry, whichever comes first).
With all of these considerations, it's understandable if you're feeling overwhelmed. To help you out, the EWG published a list of the best sunscreens available for babies that meet all of their standards (many of the sunscreens approved by the FDA do not).
We only include products that have been independently selected by Romper's editorial team. However, we may receive a portion of sales if you purchase a product through a link in this article.