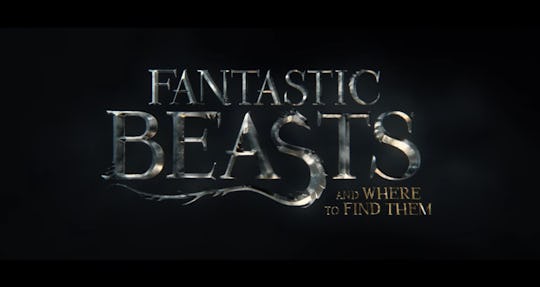 The 'Fantastic Beasts' Trailer Is Here, & It's Exactly What You Hoped
You know the ecstatic yelling you hear around the Internet right now? That's Harry Potter fans reacting after the first Fantastic Beasts trailer was released Tuesday morning, teasing the newest film from J.K. Rowling and the world of Harry Potter. Based on Rowling's 2001 book of the same title, Fantastic Beasts and Where to Find Them is about the the magical creatures in the Harry Potter universe. It follows magizoologist Newt Scamander (Eddie Redmayne) as he travels to New York in 1926 for a meeting, carrying a briefcase containing some dangerous creatures. They escape, which means American wizarding bigwigs are after Scamander, which means wizard/non-wizard relationships in American get put in an even worse place than they were before. And the drama unfolds from there.
The level of anticipation for the film is running high, to say the least, especially since the first Fantastic Beasts trailer was teased last week. The trailer mostly focuses on Scamander's arrival in New York and the difficulty he's having keeping the creatures in his magical expanding suitcase. The chaos spins out from there. From this trailer alone, a few things are obvious: 1.) Redmayne is perfect for this role. 2) All of the drama and production quality that made the previous films amazing is there, in spades. 3) This is going to be so, so, sooooo good.
Fan reactions on Twitter confirmed as much:
The cast also includes, Katherine Waterston, Alison Sudol, Ezra Miller, Dan Fogler, Colin Farrell, Jenn Murray, Jon Voight, Carmen Ejogo, Gemma Chan, and Faith Wood-Blagrove, and Fantastic Beasts is slated for a Nov. 18 release in 3D and IMAX. Since that is way too far away, expect more trailers to tide you over between now and then.
Check out the first Fantastic Beasts trailer below:
Image: Warner Bros/Youtube