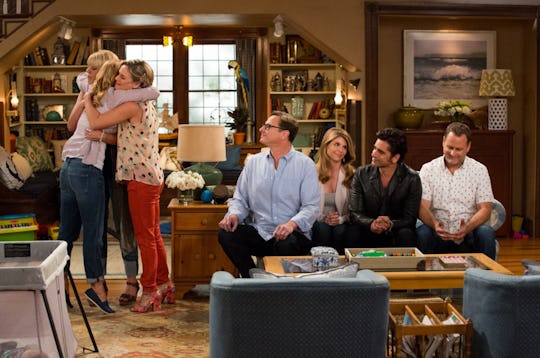 Bustle.com
The First 'Fuller House' Photos Are Here & The Premiere Needs To Get Here Like Now
There may still be two whole months to go before fans can binge-watch the Netflix reboot of 1990s sitcom Full House, but you don't have to wait that long to get an early glimpse of the grown-up Tanner women. On Thursday, Netflix released teaser photos from Fuller House.
The long-awaited Full House revival begins on a sad note, Candace Cameron-Bure revealed to Entertainment Tonight last summer. The actress, who plays D.J. on the show, said that her character is now a recently-widowed mother of three boys. Premiere details available on IMDb add that D.J. asks her childhood best friend Kimmy to move into the old house, as Kimmy is also a single mom of a teenage daughter. Middle sister Stephanie appears to be following in her Uncle Joey's footsteps as an aspiring musician, according to IMDb. The three women move back into the Tanner family home to raise their children together, which is both sweet and kind of perfect.
Last month, the streaming service released the first video teaser of Fuller House, but no glimpses of the Tanner family. These first photos of the new generation of Tanners is certainly enough to get any fan excited about the series reboot.
There's A Whole New Generation Of Tanners Now
It seems likely that this is a photo seems of the D.J., Stephanie, and Kimmy with D.J.'s two oldest boys (names! We need names!) and Kimmy's young daughter. But we'll have to wait and see!
Here's The Original Trio (Along With A Really Cute Baby!)
This photo gives a quick glimpse of the adorable tot who'll play D.J.'s youngest son, according to Entertainment Weekly.
Kimmy Is Still The Silly One
Kimmy, played by Andrea Barber, is clearly as silly as we all remember.
And Here's The Hug We're All Waiting For
In this photo, D.J., Kimmy, and Stephanie share a sweet embrace while Tanner dad Danny (Bob Saget), Aunt Becky (Lori Loughlin), Uncle Jesse (John Stamos), and Uncle Joey (Dave Coulier) look on.
Hopefully, as the premiere date nears, Netflix will offer a few more snapshots of the new Tanner family. If not, fans of the much-anticipated series will have to wait until February 26, when the show launches in all countries where Netflix is available.
Images: Netflix (4)