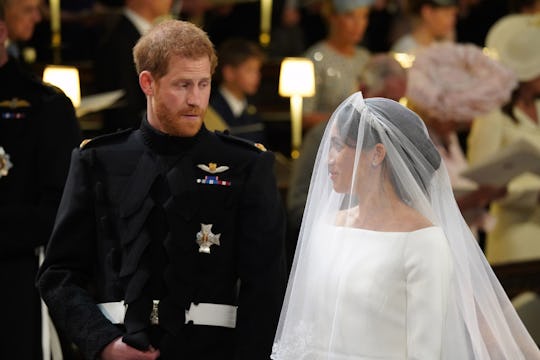 WPA Pool/Getty Images Entertainment/Getty Images
The First Kiss Between Meghan Markel & Prince Harry Prove We're All Obsessed With Their Love
After months of anticipation, Prince Henry of Wales has wed American actress and philanthropist Meghan Markle. The royal affair was as extravagant as expected — complete with over-the-top hats and a crew of adorable bridesmaids and page boys — but it was the countless Twitter reactions to Prince Harry and Meghan Markle's first kiss that proved how truly obsessed we all are with this fairytale couple's love.
While the kiss is one of many they've undoubtable shared, and will share in the future, it highlights the culmination of months of wedding planning and preparation. And, of course, a slew of seemingly unending drama. After multiple reports that Markle's father would walk her down the aisle, then wouldn't be walking her down the aisle, followed by a statement from Kensington Palace that Markle's father wouldn't be attending the event at all, there was no lack of drama, intrigue, and confusion leading up to the royal nuptials. In fact, Markle's mother was the only member of Markle's family to attend the blessed affair, and Markle was walked down the aisle by Prince Charles and at her request. It is worth noting, however, that, per CNN, Markle walked herself down the aisle the majority of the way. Prince Charles walked her down the Quire aisle, but he did not give her away in the "traditional sense"
So that kiss was more than just a kiss, my friends. It was the firework ending to a seemingly endless "royal wedding news" cycle.
Of course, we can't discuss the internet without highlighting the lighthearted, and often hilarious commentary. From poking some fun at the couple, to discussing what's in their future, Twitter users were also quick to make a jab at the newlywed's expense, especially since they didn't kiss during the ceremony. But, for the most part, everyone was thrilled to see the two love birds kiss. Finally.
For the uninitiated, Markle and Prince Harry met on a blind date in early July, 2016, according to Town & Country. During their first sit-down interview with BBC following the news of their engagement, Prince Harry said, "We were introduced actually by a mutual friend." Cheers to the friends that always have our romantic backs, right? During the same interview Markle said that despite his international fame, she didn't know much about her future husband at the time they met. "Because I'm from the States, you don't grow up with the same understanding of the royal family." But, according to Markle, their mutual friend said he was nice and, as they say, the rest is history.
Three or four weeks later, and after a successful second date, Prince Harry invited Markle on a trip to Africa. Not your stereotypical third date, to be sure, but they aren't the stereotypical couple. A fact made all the more apparent by the internet's reaction to their first kiss as husband and wife. Here are just a few more Tweets to highlight our infatuation with their love:
It hasn't been smooth sailing for the couple, though. In fact, Prince Harry was forced to come out and publicly defend his then-girlfriend, now wife, after she received a slew of hate and harassment on Nov. 8, 2016, issuing a statement through his Secretary of Communications that read in part:
His girlfriend, Meghan Markle, has been subject to a wave of abuse and harassment. Some of this has been very public - the smear on the front page of a national newspaper; the racial undertones of comment pieces; and the outright sexism and racism of social media trolls and web article comments. Some of it has been hidden from the public - the nightly legal battles to keep defamatory stories out of papers; her mother having to struggle past photographers in order to get to her front door; the attempts of reporters and photographers to gain illegal entry to her home and the calls to police that followed; the substantial bribes offered by papers to her ex-boyfriend; the bombardment of nearly every friend, co-worker, and loved one in her life. (via Forbes)
The statement went on to say that Prince Harry was concerned for Markle's safety, and was "deeply disappointed that he hasn't been able to protect her." Sadly, that hate isn't likely to end now that the couple's officially wed, but hopefully the finality of their courtship and subsequent marriage will highlight the absurdity of it all. Another point made by Twitter users, who highlighted just how important it is for the entire world to see these two kiss:
So whether you were jonesing for every single detail pertaining to the royal wedding, or couldn't have cared less, one thing is for certain: this world could use a little more love, and the royal couple has graciously allowed us to witness theirs.