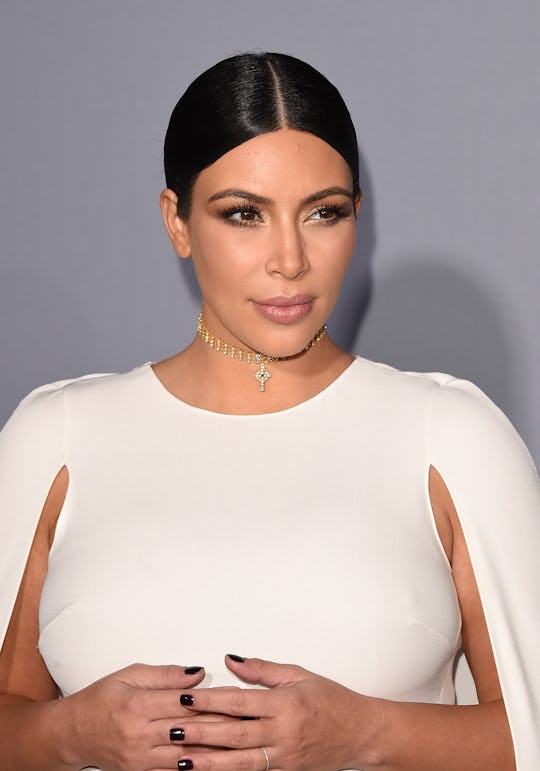 Jason Merritt/Getty Images Entertainment/Getty Images
The First Photo Of Saint West Gave The Internet All The Feelings
OK, you guys, real talk — Kim Kardashian West continued to amaze me with her fabulous-ness on Monday. She's a multi-media mogul, the hottest mama on the planet, and she manages to maintain her cool in a sea of high-drama ridiculousness. (Yes, I'm looking at you, Kanye.) As if I couldn't get any more jealous of her, on Monday, in honor of her late father, Robert Kardashian, Kim released the first photo of Saint West, and lawdy is that one gorgeous baby. And I'm not the only one #dying over Kimye's most recent addition to the family — there's been plenty of reaction to Kim Kardashian's photo of Saint West.
First of all, let's not take anything away from Princess Nori, because North West is beyond beautiful. But dayum, Saint West is perfection — like he really was sent from heaven.
The timing of the big Saint reveal was interesting. Kardashian released the image on her website and app Monday in honor of her famous lawyer dad's birthday. But it happened after rumors that the first picture of Saint would be made public on the cover of Kanye's new album, The Life of Pablo, never came to fruition. Kanye's fashion show at Madison Square Garden for Yeezy Season 3 already happened. No Saint there. And Sunday night was the season finale of Keeping Up With the Kardashians, so there really doesn't seem to be much in terms of promotion in the timing of the first glimpse of Saint. If you remember, Kanye showed the first picture of North on Kris Jenner's failed talk show in an effort to try and goose her ratings. Didn't work. So maybe Kim just felt the timing was right.
I mean he's perfection! And the rest of the world agrees.
But Kim's days are full of more than this little bundle of precious. She also shared this adorable picture on Instagram of Kanye and North on a recent shopping trip with parents-to-be John Legend and Chrissy Teigen, and those two look dunzo.
But the best part of this sweet snap is the tag Kim added to the pic that tells you just about everything you need to know about the public persona of this very famous family compared to how it is real life — #TheRealLifeofPablo. And she's funny, too.
You're a lucky girl, Kim.