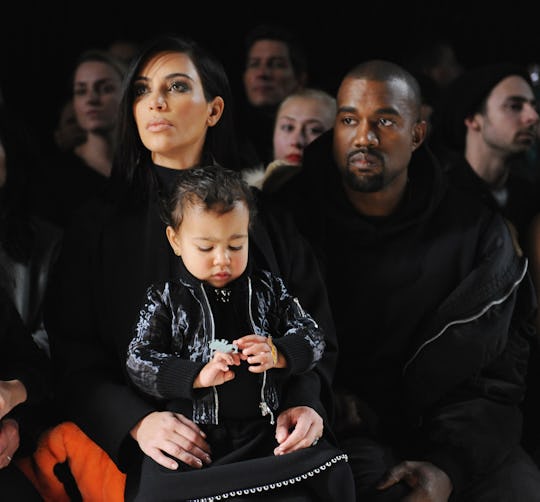 Craig Barritt/Getty Images Entertainment/Getty Images
The First Photo Of Saint West Is Here & It Is Adorable
After three long months since his birth, Kim Kardashian finally revealed the first photo of Saint West on Monday. The world caught the first glimpse of Kardashian and Kanye West's son in early January, when the celebrity mom teased a sweet photo of her daughter North holding baby Saint's finger: Now we finally get to see Saint's face! The photo shows a snoozing Saint West in a snuggly-looking white thermal, his arms stretched out in a triumphant pose above his head. Saint even has the slightest hint of a little smirk in his sleep. Even though his eyes are closed, Saint's family resemblance to big sis Nori is definitely there. And, at three months old, Saint already has an impressive head of hair, to boot.
Saint was born on Dec. 5 and the world has been eagerly awaiting its first glimpse at Kardashian's little man. Kardashian posted Saint's first photo on her website and app with the following caption:
Today is my dad's birthday. I know there's nothing more in the world he would have wanted than to meet his grandchildren. So I wanted to share this pic of Saint with you all.
Seriously — how adorable is this photo? I could pinch those little chubby cheeks all day long:
Kardashian's father, Robert, would have been 72 years old today; he died in 2003 when he was only 59 years old, having lost a battle with esophageal cancer. Kardashian was just 23 years old at the time. The eldest Kardashian daughter was incredibly close with her late father and has spoken candidly of both her love for her father and how much she has missed him in the years since his death. For Father's Day in 2015, Kardashian posted a childhood photo of her and sister Kourtney sitting in their's father lap with the following caption:
Happy Fathers Day to the best dad in the world! It's been over a decade since you've been gone but the memories run so deep they will last forever!
Kardashian's father has been back in the news thanks to the FX original series, The People v. O.J. Simpson: American Crime Story, in which former Friends star David Schwimmer portrays the famous defense attorney and close friend of Simpson.
On Sunday, Kardashian and West took big sis North out for a baby shopping trip with friends and parents-to-be Chrissy Teigen and John Legend on Sunday. The trip proved to be too much for daddy Kanye and little Nori, as Kardashian snapped a photo of the snoozing duo and posted it to Instagram:
Saint's older sister North turns three years old in June. Despite a difficult delivery with Saint, Kardashian has said in the past that she hopes to have between two and four children. While she's not thinking about any more kids so soon, there's definitely the chance that Saint's first photo won't be the last of the Kardashian baby photos in years to come.