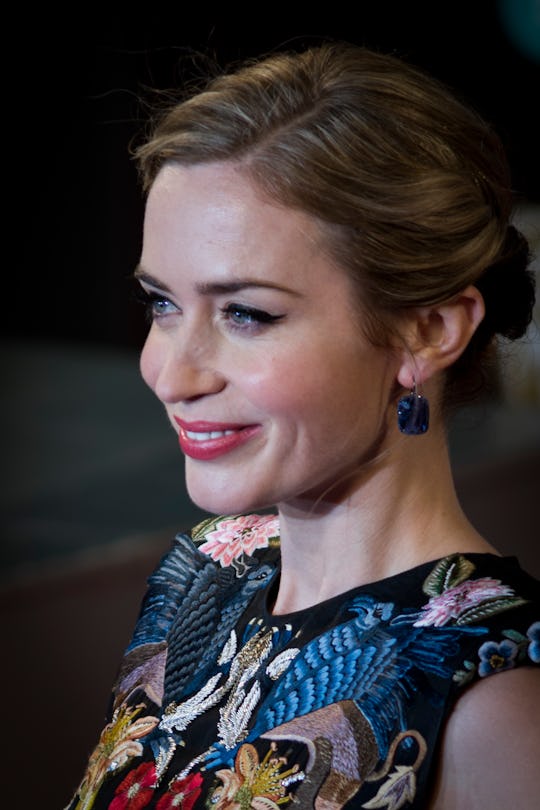 Tristan Fewings/Getty Images Entertainment/Getty Images
First 'Mary Poppins' Pics Are Supercalifragilistic
Right now, some of us might need a little spoonful of sugar to help the medicine that is 2017 go down. Today, we need a magical nanny to remind us that sometimes, you've just got to go fly a kite, you know? Since it's too cold outside and there's not really enough wind for a good kite-flying session, here are the first photos of Mary Poppins to remind you that there is so much to look forward to right now, thanks to the magic of Disney. For real, I promise.
Because here is what we have to look forward to; a re-imagined version of the original 1964 Mary Poppins classic written by P.L. Travers about a mystical nanny who arrives to care for the Banks children, Jane and Michael. The original starred Julie Andrews as the eponymous Ms. Poppins and Dick Van Dyke as the nimble chimney sweep. In the new film Mary Poppins Returns, the Banks children are adults suffering from loss and they need their nanny back to help them through a difficult time. The new movie is directed by Into The Woods' Rob Marshall and stars Emily Blunt as Poppins, Hamilton's Lin-Manuel Miranda as Jack, Colin Firth, Julie Walters, Angela Landsbury, and Meryl Streep as Topsy, Mary Poppins cousin. Walt Disney Studios shared their first look at Blunt as Poppins on Friday, and just seeing Blunt carrying that bag of tricks... my heart.
According to a press release by Walt Disney Studios, the new Poppins tale will be focused on the Banks' grown children, Michael (played by Ben Whishaw), and Jane (played be Emily Mortimer):
Drawing from the wealth of material in P.L. Travers' seven additional novels, the story will take place in Depression-era London (when the books were originally written) and follows a now-grown Jane and Michael Banks, who, along with Michael's three children, are visited by the enigmatic Mary Poppins following a personal loss. Through her unique magical skills, and with the aid of her friend Jack, she helps the family rediscover the joy and wonder missing in their lives.
Mary Poppins Returns is set to be released on Dec. 25, 2018. Which seems like a million years, I know, so we will have to satisfy our Poppins cravings with every little tidbit we can get our hands on. For instance, an all new score is being composed for the new movie, and for those of you who saw Marshall's film Into The Woods, you know it's going to be epic. Also Variety reported that Dick Van Dyke is coming back as bank chairman Mr. Dawes Sr. And he's always fun to watch. So we just have to take a little advice from Mary Poppins herself, look on the bright side. We might have to wait almost two years to see the movie... but at least we know it's coming.