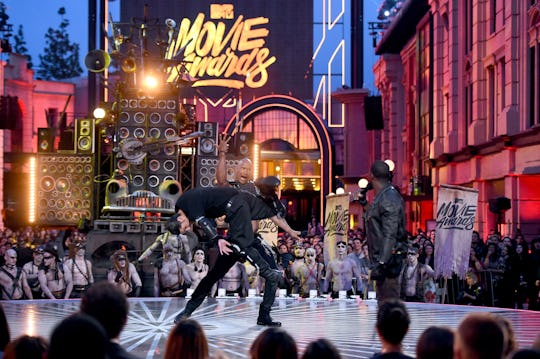 Kevin Winter/Getty Images Entertainment/Getty Images
The Funniest MTV Movie Awards Tweets Prove That The Show Was Worth Watching
The MTV Movie Awards were definitely worth watching on Sunday night. Or they were, at least, according to Twitter. The website was in full force on Sunday, using the #MTVMovieAwards to tweet out their comments and complaints about the annual awards show. The hashtag was trending on Twitter for the majority of the night, hundreds of thousands of tweets being tagged. Because of this, the funniest MTV Movie Awards tweets prove that the show was worth watching.
The show was full of lots of unpredictable moments. Between hosts The Rock and Kevin Hart, both actors filled the two-hour long show with hilarious bits and jokes paying homage to some of the best movies in the past year — like Star Wars, Mad Max: Fury Road, and Pitch Perfect 2.
It also made sure to highlight movies that will be premiering in the summer and later in 2016. Movies like Baywatch, Captain America: Civil War, and Fantastic Beasts and Where To Find Them were all previewed during the awards show which made watching the awards all the more exciting. It drew up hype for the soon to be premiered films while still providing the audience with entertainment — and boy, was it entertaining.
Twitter, of course, was quick to react to the award's show, tweeting along with the show as it aired live on MTV. Some people were snarky, but most provided some hilarious commentary about the presenters, award winners, and bits performed on the show.
The award recipients were from a very diverse group. Star Wars: The Force Awakens took home the most awards for the night, including Best Picture. Straight Out Of Compton finally got the recognition it deserved after being snubbed by the Academy Awards. It was a fair mix of acknowledging movies that deserved to be acknowledged and films that were thrown in the mix just for the fun of it all — and there was nothing wrong with that.
Will Smith received the Generational Award, which was rightly deserved.
And hosts, The Rock and Kevin Hart provided some, er — interesting and unforgettable song and dance during the show.
The MTV Movie Awards were such an entertaining and unforgettable time, sure to be talked about until the next MTV Movie Awards airs next year. Thanks to the commentary of Twitter users, the show was definitely worth watching, if not for the celebrities but the hilarity that ensued.