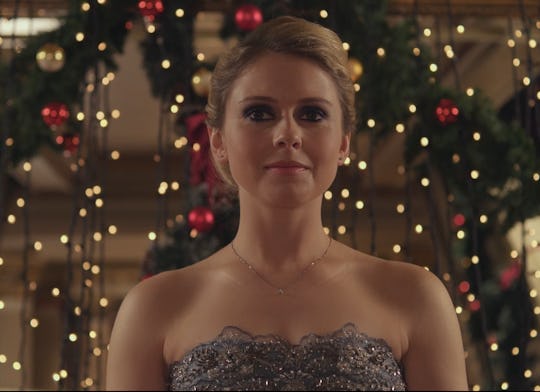 Netflix
Twitter Can't Stop Trolling Netflix's 'A Christmas Prince' & It's Pretty Amazing
Every holiday season Hallmark and Lifetime release new Christmas movies that are a bit cheesy, but are always a joy to watch. This year, Netflix decided to throw its hat in the ring with two original Christmas films, A Christmas Prince and Christmas Inheritance. Since A Christmas Prince was the first, it has created quite a stir amongst viewers, eliciting some positive and negative feedback, particularly on Twitter. Below are some of the funniest tweets about A Christmas Prince that will help you come to the conclusion that it's so bad, it's actually good.
If you haven't seen A Christmas Prince yet, or somehow haven't heard about it, the movie stars iZombie's Rose McIver as a young journalist named Amber who's sent to the fictional European country of Aldovia for a press conference in the hopes of getting a scoop on the prince's coronation. Prince Richard is set to take the throne soon, after his father died almost a year ago, and Amber is determined to get an exclusive for her story. However, when the prince cancels the press conference, Amber has no choice but to go undercover and pretend to be the tutor for Prince Richard's little sister, Emily. But, of course, Amber ends up falling in love with the handsome prince, which could jeopardize her entire career.
Naturally, Twitter had some thoughts about this complicated love story. Check out some of the most hilarious reactions below and get ready to quite literally laugh out loud. These people came to troll the Netflix Original and man did they do a great job.
Some People Saw The Movie For The Masterpiece It Is
Others Love It Despite Its Many, Many, Many Faults
Some People Just Can't Look Past the Inaccuracies
Some Are Blaming Netflix For Making Them Watch The Movie
Even Netflix Has Made Jokes About Their Own Film
Many People Have Questions About The Film
Some People Thank The Movie For Giving Them Hope
While Others Were Confused About Which Christmas Prince Movie They Were Watching
They Also Couldn't Help But Notice The Similarities To Other Films
Some People Are Already Requesting A Sequel
People Had Questions About The Level Of Journalism In The Film
Others Believe The Movie Was Made For Them
While reactions to the movie have been mixed, it's clear A Christmas Prince hit a cord with a lot of people. Whether it made them cry, laugh, or just full of a ton of questions, it's the one movie people can't stop talking about this holiday season. Thus, it's a hit and fans are already asking for more. Whether or not there will actually be A Christmas Prince sequel remains to be seen, but for now, anyone still looking for some cheesy Christmas movies have a few options.
There's Netflix's other holiday movie, Christmas Inheritance, which has also generated a bit of buzz. Christmas Inheritance stars The 100's Eliza Taylor as Ellen Langford, a young heiress who travels to a small town in order to prove to her father she can take over the family business when he retires. However, if you'd prefer your Christmas movies to include royals, Lifetime also recently released My Christmas Prince, which is totally different from A Christmas Prince. (Kind of.) That movie follows an American teacher who discovers her boyfriend is a prince from another fictional European country. Surprise!
Seriously, there are so many great Christmas movies you can watch this holiday season, but A Christmas Prince is by far the most talked about. So jump into the conversation and watch the movie, which is now streaming on Netflix.
Check out Romper's new video series, Romper's Doula Diaries:
Watch full episodes of Romper's Doula Diaries on Facebook Watch.