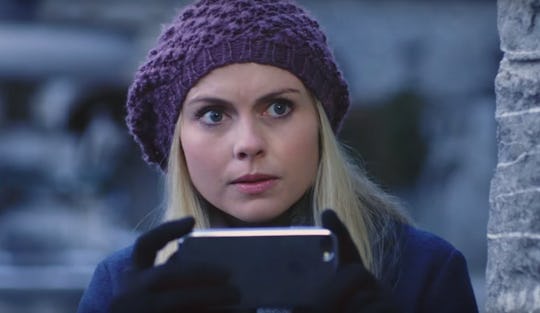 Netflix/YouTube
The Country In 'A Christmas Prince' May Seem Very Familiar
Even though not every country is under the rule of England, there's no denying that Americans have a fascination with British royalty. And even though Netflix's feel good romantic Christmas movie, A Christmas Prince, takes place in a completely different country, Prince Richard of Aldovia does well in feeding my appetite for royal family dynamics. But it also has me wondering about the place he calls home. So where is Aldovia on A Christmas Prince?
The country in the TV movie is actually entirely fictional, but for all intents and purposes, it's not difficult to take a wild guess as to where it's supposed to be located. While it's clearly not a stand-in for England, the winter wonderland of a country seems to be as regal as the motherland, as is the castle itself. The story mostly centers around American reporter Amber, who visits Aldovia and goes undercover as a tutor in order to get an inside scoop of Prince Richard's comings and goings. But, of course, she ends up falling for him. (Can't say that I blame her.)
But even though Aldovia isn't an actual country you can go and visit (sadly), that doesn't mean we can't surmise where, in general, it's supposed to be in this fictional world. For example, I get the distinct impression it'd be located somewhere in Europe. Granted, that doesn't exactly narrow it down, but hey, it's better than nothing.
Similar to Genovia in The Princess Diaries, Aldovia is meant to represent the country of an affluent royal family admired and followed by many in the fictional world of the movie, so it's the closest thing A Christmas Prince has to the royal family we know of in real life.
Since it's not a real place, though, there's no discernable location to pinpoint it. But it looks to be somewhere that can get very cold, given all of the snow and mountains. So maybe somewhere near Norway? OK, so I honestly have no idea, but it's still fun to consider. In any case, Aldovia looks like the magical winter wonderland of my childhood dreams.
Even though A Christmas Prince has the familiar love story that follows the pattern of nearly all other romantic TV Christmas movies (cue the playful snowball fight, followed by an almost kiss), it's still been a fast success for Netflix and it's already available for streaming over and over until you're sick of watching the inevitable love story.
Although Amber is sent to report on Prince Richard's activities and what his story is beyond his struggle to accept the throne, she soon realizes that there's much more to the handsome prince and that even though he has others gunning for the crown, he might be king material after all. Provided, of course, that he find the right bride. And, spoiler alert, it may or may not be Amber by the end of the movie.
Aldovia can't be found on any map, but the world created within A Christmas Prince is everything that these types of movies should be, so I think we can let Netflix slide for getting a little creative with their own made up country for the sake of the movie. Right now, there are a number of similar Christmas movies on both Lifetime and the Hallmark Channel, but Netflix has officially entered the arena of romantic Christmas movies, and A Christmas Prince has secured the streaming service's place as a new go-to spot for your annual holiday movie binges.
Check out Romper's new video series, Romper's Doula Diaries:
Watch full episodes of Romper's Doula Diaries on Facebook Watch.