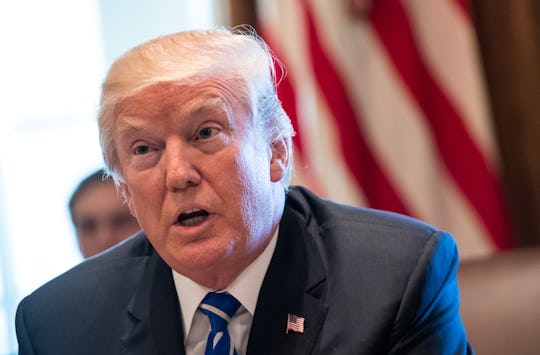 Pool/Getty Images News/Getty Images
The Funniest Tweets About Trump's Claim To Have 'Passed' On Being Person Of The Year
Being the President of the United States doesn't seem to be nearly as time consuming as I first imagined it might be. I always thought it would be a massive undertaking, almost too heavy a responsibility to imagine. If President Trump's Twitter feed is any sort of barometer for how busy he is with running the country, it looks like it's sort of a breeze. Because he has plenty of time to concern himself with just about everything, including obsessing over TIME's "Person Of The Year." It's a little disturbing, but fortunately we have these amazing tweets about Trump's claim to have "passed" on being TIME's Person Of The Year to soothe us in our time of woe.
Most people know about the president's longtime obsession with being on the cover of TIME; he rather famously created several fake copies of the magazine with himself on the cover as the Person Of The Year and hung them in several of his properties around the country. He finally legitimately made the cover in 2016, after he beat Democratic nominee Hillary Clinton to become the 45th President of the United States. But the odds of being chosen twice is highly unlikely (although, and I'm not trying to pour salt in what appears to be a pretty open wound, Obama was named Person Of The Year twice, in 2008 and 2012... just saying). Even more unlikely? The concept that the attention-mad president would ever, in a million years, turn down the opportunity to be on the cover of TIME.
The president tweeted on Friday:
TIME Magazine called to say that I was PROBABLY going to be named "Man (Person) Of The Year", like last year, but I would have to agree to an interview and a major photo shoot. I said probably is no good and took a pass. Thanks anyway!
TIME's response to the president's claim that he was probably to be named "Person Of The Year?" Um... nope.
Alan Murray, who is the Chief Content Officer for TIME, went even further and wrote that there is "not a speck of truth" to Trump's assertion that he was "probably" going to be named Person Of The Year.
And then... the Twitter feeding frenzy began. Because honestly, you can't even make this stuff up.
First, the celebrities weighed in. Tennis champion Andy Murray noted that he had a similar situation when he had to turn down a major award.
It seems there might be an epidemic on having to pass on impressive honors, because Veep's Julia Louis-Dreyfus took to Twitter to claim she had a similar issue.
Even Luke Skywalker, also known as the King of Twitter Mark Hamill, got in on the action. In fact, he claims to have been nominated for "Man (Person) Of The Year" (and don't you just love Trump's insistence on using the male pronoun that literally no one else is using?) but had to turn it down as well. Pity.
Outspoen actress Patricia Arquette had a helpful suggestion for Trump:
Not all tweets took aim at the whole award thing; many took aim at the admittedly weak excuse Trump came up with to explain why he wouldn't be on the cover of TIME this year.
As funny as these tweets are, it's actually a sad state of affairs when the president feels the need to become so heavily invested in being on the cover of a magazine. Because there are actual, real, important issues he needs to be concerning himself with on an hourly basis all over the world. None of which have anything to do with magazine issues.
Check out Romper's new video series, Romper's Doula Diaries:
Watch full episodes of Romper's Doula Diaries on Facebook Watch.