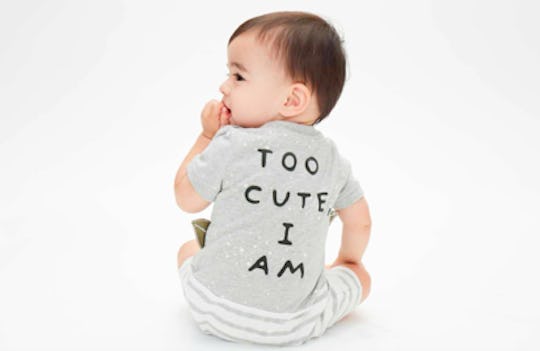 Gap's Star Wars Collection For Your Family Is Here, & The Baby Stuff Is The *Best*
We live in a world where our focus on nostalgia has become incredibly popular — especially when that nostalgia means taking movies from the 1970s about a war in the galaxy and adding more characters, adventures, and adorable alien-like creatures. (Looking at you, porgs.) The obsession with Star Wars has never waned from the beginning, but now it's popping up in even more exciting places, like your closet and your kids'. On April 30, Gap is launching an incredible Star Wars collection for adults and kids, and seriously, you're going to want every single piece. This isn't your usual movie-themed merchandise — this is cute, classic, and made with you and your Star Wars-loving family in mind.
In the past, it seemed like movie-themed t-shirts, or items you wore as an entire family, were only suitable for those summer trips to Disney World or to the midnight movie premieres, back when Natalie Portman was pregnant with Anakin and Leia. But now cute, quirky tees are in, and when they feature your favorite characters, lines from the movies, and incredible graphics, you can't resist. The Gap Star Wars collection includes summer clothing for men, women, boys, and girls, and the baby assortment includes sizes 0 to 3 months, 3 to 6 months, 6 to 9 months, 9 to 12 months, 12 to 18 months, and 18 to 24 months. Even better, the baby collection's pricing starts at $9.95.
Apparently this is the first time the Star Wars franchise has ever collaborated with any retailer in the U.S. to create apparel and accessories specifically for the littlest one in your family. There's no doubt you've seen the countless Star Wars shirts for your 8-year-old boy and men in every retailer nationwide, but to now see it for girls, women, and the babies of the family is pretty amazing.
My favorite part about the collection is how muted and almost classic every item looks. There's no bright green Yoda here or words taking up an entire romper for your baby. Instead, many items are in neutral colors, letting the adorableness of a baby Yoda face stitched onto a one-piece do all the talking. (And if you've heard Yoda talk, you know it's even more adorable.)
Star Wars Shorty One-Piece, $25, Gap
The higher you go in sizes, the cuter the entire collection seems to get. Even the toddler stuff, while still bright and colorful, are in a style every adult can appreciate. Like this punchy graphic t-shirt ($25, Gap) featuring a bunch of storm troopers with Darth Vader tucked in or this denim jacket with light sabers stitched on the back ($50, Gap).
There are shoes, bright sequin tees, denim vests, and even collared shirts with Chewbacca as the detail. Basically, there's something for everyone and I can't wait to pick out a ton of pieces for my 3-year-old daughter and the baby swimming around in my stomach and making me hate hot coffee.
The collection was created to celebrate the premier of Solo: A Star Wars Story, the latest movie in the franchise releasing May 25. But if you're a Star Wars purist who hates the thought of a reboot or a re-casting, even you'll appreciate this Gap homage of a galaxy far far away. The pieces represent the culture of Star Wars, which is all about adventure, diversity, love, and doing what's right. It's hard to imagine getting deep about kids' clothes, but I'm telling you, this collaboration will hit you right in the feels. May the force be with you.
Check out Romper's new video series, Bearing The Motherload, where disagreeing parents from different sides of an issue sit down with a mediator and talk about how to support (and not judge) each other's parenting perspectives. New episodes air Mondays on Facebook.