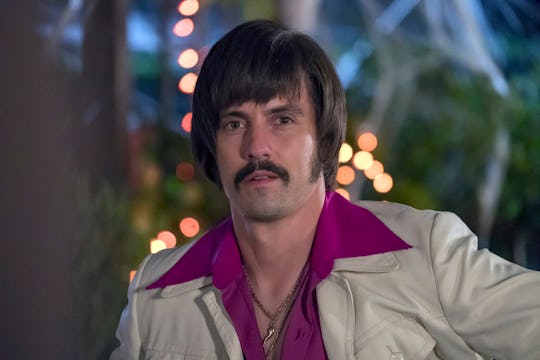 Ron Batzdorff/NBC
The Halloween Costumes On 'This Is Us' Will Warm Your Heart
You might still be struggling to figure out which Rebecca Pearson era works best for you as a costume this year, but the Halloween costumes on This Is Us show that the fictional family we all want to be apart of knows how to celebrate the season in the best way. Honestly, they're nothing short of adorable, with Jack and Rebecca as Sonny Bono and Cher at the height of their 1970's variety show fame and the Big Three sporting their own creative costumes that totally work for each kid.
For the This Is Us Season 2 Halloween episode, Kate is Sandy from Grease, which totally makes sense considering she's already shown an interest in singing and performing at this age, while Kevin is a hobo because, uh, the outfit is super comfortable, maybe? And then there's Randall who makes such a badass King of Pop. His Michael Jackson ensemble is complete with the curly locks that were a signature look for the superstar in the '80s.
If Rebecca and Jack weren't already giving you serious parenting goal vibes, they apparently needed to take their devoted mom and dad skills to the next level by dressing up along with their kids for a simple trick-or-treating outing. According to TVGuide, though, Halloween with the Pearsons is going to be anything but ordinary: "Trick-or-treating with the 10-year-olds goes awry for Jack and Rebecca; and Randall, Kevin and Kate have life-changing Halloweens."
In the promo for Tuesday's episode of This Is Us, Kate's big concern on Halloween night is meeting a mysterious kid by the name of Billy, so maybe she's the one who gets her life-changing Halloween in the form of her own first kiss from a boy. Regardless, I don't think anyone expected Jack and Rebecca's Halloween with their kids to be your run-of-the-mill outing, especially dressed in all the trimmings. And I don't know if Jack (or Milo Ventimiglia) can sing, but seeing the happier version of Jack and Rebecca, before their major marital woes, sing "I Got You Babe" together would basically make the season.
I'm also hoping that this special Halloween-centric episode means that there won't be too many sad nods to Jack's impending death. (I mean, I still totally want to know how he dies, but I wouldn't mind taking my mind off the mystery with a little Pearson family bonding.) The promo shows a flashback to the early 2000s and to Kate, Kevin, and Randall's struggles through their 20's which just might coincide with whatever is going on with the Big Three as the 10-year-old versions go trick-or-treating.
Around this time during Season 1 of This Is Us, fans didn't get a Halloween episode, but instead got a more fall-themed one that explained why football games are so important to Kate and how she watches them with Jack's urn, which confirmed to viewers, once and for all, that the Pearson patriarch did die at some point. With that big revelation and now Tuesday's Halloween episode that promises a life-changing night for the Pearson kids, you kind of have to expect something big. Not big in the sense that viewers find out Jack's brother and well or anything, but big in a way that really does show something monumental for the kids that continues to shape who they become.
But no matter what Tuesday's episode has in store, the Halloween costumes on This Is Us have proven that there needs to be a Halloween episode every year.
Watch Romper's new video series, Romper's Doula Diaries:
Check out the entire Romper's Doula Diaries series and other videos on Facebook and the Bustle app across Apple TV, Roku, and Amazon Fire TV.