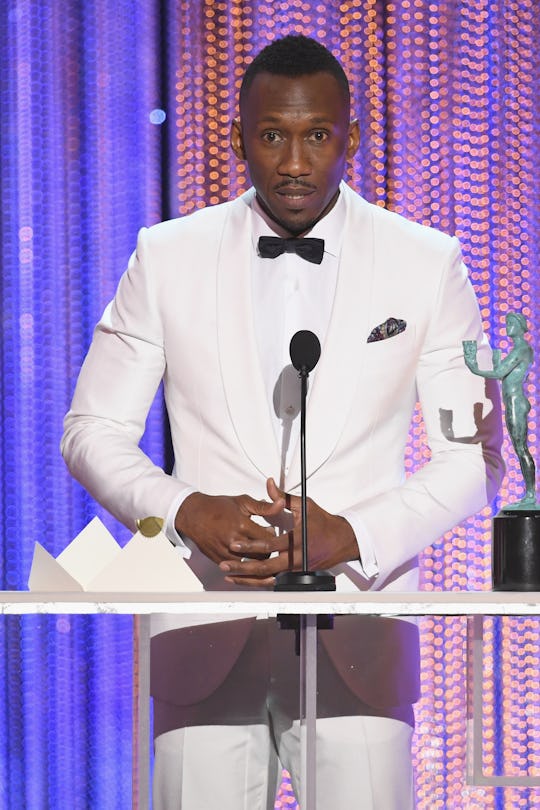 Kevin Winter/Getty Images Entertainment/Getty Images
The Immigrant Ban Took The Spotlight At The SAGs
The election has had a huge effect on Hollywood. Whether it is Saturday Night Live covering the ups and downs of the campaign trail, or an award show focusing the evening on a recently passed executive order — the new president has people talking. On Sunday night, President Trump's immigrant travel ban was the talk of the SAG Awards. Some painted the words right on their body, and others used their speeches to say how they really feel about Trump's actions in the White House thus far. And those that did choose to speak were unanimous in bringing the ban to light and encouraging those watching to have more compassion than the current administration has showed.
Some people are quick to say that Hollywood doesn't have a voice in politics. There's a time and place for politics — but when the president is a former reality star himself, who is to say that he can't become the punching bag at the SAG Awards? Plus, Trump has taken it upon himself to occupy his time with critiquing those that critique him in a rather childish and non-presidential way. Also, Hollywood stars are citizens of the United States — they have just as much of a voice as you and I do.
The first duo to make a statement were Simon Helberg and his wife. The two brought their statement on the immigrant ban to the SAG Awards in a rather literal way — painting it on their chest and carrying a sign.
Moonlight star Mahershala Ali took the time to explain what it means to be accepting of others — despite religion (which many are blaming the recent order to be pointing toward, dubbing it the #MuslimBan). He explained in his speech that his mother is a minister, while he is Muslim. He converted years ago, something that his mother probably wasn't thrilled about, and in those years, they've been able to put those differences aside and love and respect each other. Something our nation can use a little more of.
His speech was one of the most moving of the night. And if you didn't catch it during the show, watch below to see just how important Ali's words are.
Sarah Paulson, who won for The People v. O.J. Simpson, asked people to donate to the ACLU, which is helping fight against the inequalities being passed by the current administration. It is an easy way for those who feel helpless to do something, and it actually will lead to change. Just a day after the order was passed, an emergency stay was brought against the order due to a lawsuit brought on by the ACLU.
The cast of Orange Is the New Black was able to show that our country is made up of so many different types of people by literally listing some of the heritages that are represented in the show. The majority of the United States is made up of immigrants, so this legislation affects all of us.
In a time when the country feels divided, it is important for anyone with a voice to say something. There is no change until people feel uncomfortable. So, if that means a lot of time was spent on the topic of politics, then so be it.