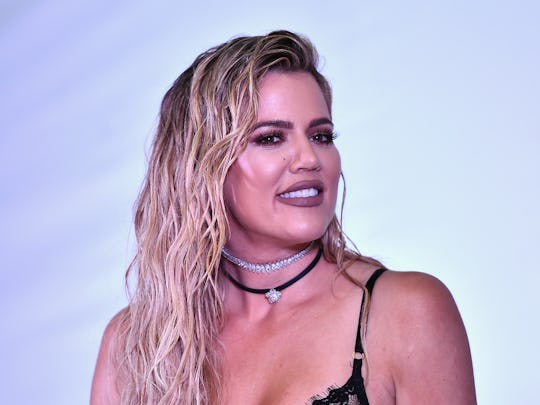 Alberto E. Rodriguez/Getty Images Entertainment/Getty Images
People Are Convinced Khloe Kardashian's Latest Instagram Confirms Her Pregnancy Rumors
When a member of the Kardashian-Jenner empire may or may not be expecting her first child, their devoted fandom goes bonkers searching for clues that the reports are true. And when two of the sisters — in this case, Khloé Kardashian and Kylie Jenner — don't address the identical rumors about them for weeks and counting after they surfaced, Kardashian obsessives basically morph into unrelenting around-the-clock bump watchers wielding metaphorical binoculars and refreshing the women's Snapchat and Instagram feeds relentlessly. So, it's no surprise that the internet is convinced that Khloé Kardashian's latest Instagram confirms her pregnancy rumors. It's an exciting prospect for anyone who's watched Keeping Up with the Kardashians religiously for the past 10 years — but it's also definitely not the case.
Kardashian posted the photo inspiring the latest round of rampant speculation to Instagram on Thursday, and it shows the fashion mogul modeling a newly released piece from her Good American clothing line. And, of course, the "mini" is pretty form-fitting. Coupled with the fact that Kardashian's arms rests casually across her mid-section, and it's enough for some commenters to feel like this is confirmation that Kardashian and her boyfriend, Cleveland Cavaliers star Tristan Thompson, are about to become parents. (Romper has reached out to Kardashian's rep for comment, but has not heard back at this time.)
IMHO, the photo is about as far away as a "confirmation" as you can get. After all, it's hardly ever appropriate to look at a woman's body and declare her pregnant or not.
Khloé Kommenters had some other ideas, though. Here's just some of what they had to say upon seeing the photo:
Omg I see dat baby bump
def seems to have a baby bump
Pregnant??????
look at the belly guysss
are you hiding your belly because you have a baby in there
omg she had a little bump!!
I see a little baby bump
Is that a bump I see ❤️😍😍
Don't squash our baby love. 😍
Obviously, these super sleuths are seeing what they think is already there. Most of them probably already know, for example, that rumors indicate that Kardashian is about four months pregnant, should the reports be true. Sure, when you're psyched about the idea of another Kardashian baby, and you see a photo of that maybe-baby's could-be mom that shows off her figure, it's only natural to assume. But that's not the most... reliable method of knowing for sure whether the baby news is true. The only way to be sure, of course, is to wait for Kardashian to address the rumors herself.
For now, though, Kardashian seems content to keep it low-key. Earlier this week, she made her first public appearance since the pregnancy news began circulating in late September wearing an oversized hoodie and using a huge purse that effectively covered her belly. This was enough for Us Weekly to declare in its headline that she was hiding her alleged bump in the photos shot of her and Thompson in Cleveland. Were there photos? Yes. Could there have been a bump under there? Maybe. Did this amount to confirmation? I think not.
If Kardashian was indeed concealing her bump, it's hard to blame her. Strangers feel shockingly entitled to comment on the size of a pregnant woman's belly, and that's true on a huge scale for celebrities. Flaunting a bump, or even just letting it show, would surely elicit rude scrutiny and commentary from non-experts about whether the bump looks to be the right size. These commenters would do well to remember that talking about a woman's looks is unacceptable, and that's still true when she's pregnant.
Of course, Kardashian's latest Insta isn't the first snap that fans have speculated about. You see, Kim Kardashian West only recently confirmed that she and her husband are expecting their third child, probably via surrogate. And Kim and Khloé's sister Kylie has not addressed rumors that she's expecting, too. But way back on Sept. 3, Kim K posted a photo of the three of them together. She captioned it simply, "The 3 of us..." Note the cryptic, or possibly telling, use of ellipses. Once the Kylie/Khloé news broke in late September, fans predictably went full Sherlock Holmes and had a field day.
As is the case with so many things Kardashian, this latest round of speculation is pretty far-fetched. But, given what's going on within that family right now, it's fair to say that the Kardashians have mastered the fame game, even if they're not addressing anything.
Watch Romper's new video series, Romper's Doula Diaries:
Check out the entire Romper's Doula Diaries series and other videos on Facebook and the Bustle app across Apple TV, Roku, and Amazon Fire TV.