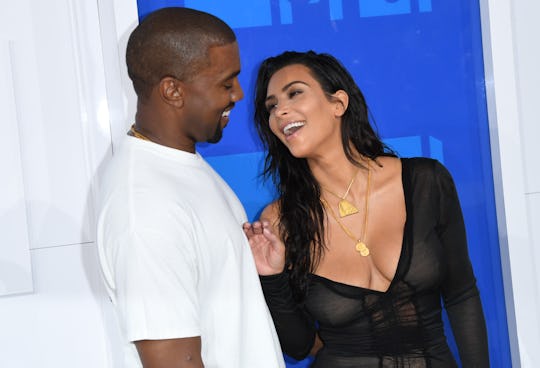 ANGELA WEISS/AFP/Getty Images
It's Official! Kim K Confirms *Those* Pregnancy Rumors
Way before reports surfaced recently that both Kylie Jenner and Khloé Kardashian could be expecting their first babies, Kardashian acolytes all over the world were clinging onto likewise unconfirmed reports that Kim Kardashian was getting ready to welcome another member to the family via surrogate. And, not to be outshone by her sisters, Kim Kardashian confirmed she's expecting her third child on a teaser for the upcoming season of Keeping Up with the Kardashians. With that, the mogul set the tone: It's certifiably baby central over in Kardashian land.
At the tail-end of the minute-long but action-packed teaser, Kardashian is on a video call with her younger sister Khloé. "What happens every time I say, 'Guess what?'" Kardashian asks. "The person's pregnant?" Khloé responds, and it turns out that she — as well as all of those unnamed "sources" and "insiders" who've been telling gossip mags that Kardashian and husband Kanye West have a baby on the way — was right. Because Kim's answer contains those three little words we've all been waiting for: "We're having a baby!"
Notice that Kardashian didn't say "I'm pregnant!" And that all but confirms the rumors that she and West hired a surrogate to carry their next son or daughter — and that the surrogate is, indeed, pregnant — are true. Previously, it was reported that the anonymous surrogate is due in January.
Keeping up with the Kardashians Season 14 premieres on Sunday — and, as Kardashian promised when she posted her announcement clip on Instagram, the baby news indicates it's "gonna be wild."
Kardashian fans have had a few months to get used to the idea that Kardashian and West's two kids, 4-year-old North and 1-year-old Saint, will soon have a little brother or sister. Until now, Kardashian has expertly wiggled her way out of confirming or denying the reports that her reported surrogate — who's said to be a San Diego mom in her late 20s — is out there carrying her baby. And, still, she doesn't come straight out with it that she'll be welcoming a little one via surrogate in the teaser video, either.
But this clip was likely filmed months ago and Kardashian hasn't appeared to be sporting a bump since. And since she suffered two notoriously dangerous pregnancies before, these rumors have a funny way of turning out to be true. So, all signs point to go on the surrogate front.
Perhaps the most striking aspect of the official confirmation that Kardashian and West have a baby on the way is the fact that their baby is potentially one of a few expanding the Kardashian/Jenner empire. Earlier this month, unnamed sources started spilling that Kylie Jenner and her new beau, rapper Travis Scott, are reportedly going to have a baby girl in February.
And as if that weren't enough of a bombshell for all those fans desperately trying to keep up with the Kardashians, the very next week ushered in reports that Khloé Kardashian might also be pregnant, and that she and her boyfriend of about a year, Cleveland Cavaliers star Tristan Thompson, will become parents together as soon as April. Romper has reached out to representatives for Jenner, Scott, and Kardashian, but has not heard back at this time.
What are the chances, right? And congratulations are in order for all three of these women, but, seriously: All this hubbub right when Keeping Up with the Kardashians just as Season 14 is about to start is almost too good to be true, at least from a publicity standpoint. It's just too bad that family matriarch and momager Kris Jenner has already dashed all your hopes of a grandkids reality spinoff.
It's still safe to say that all these new babies will find their way into the limelight — and probably sooner rather than later – and that Kardashian fans will be glued to their TVs because of it.
Watch Romper's new video series, Romper's Doula Diaries:
Check out the entire Romper's Doula Diaries series and other videos on Facebook and the Bustle app across Apple TV, Roku, and Amazon Fire TV.