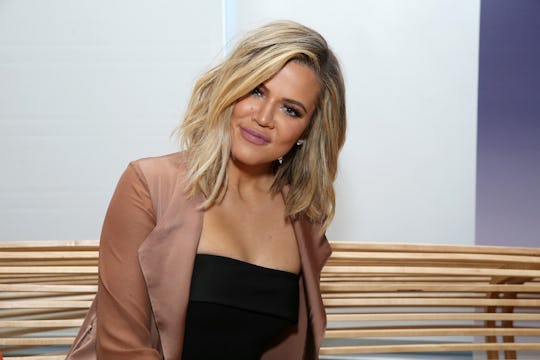 Cindy Ord/Getty Images Entertainment/Getty Images
If Khloe Kardashian Is Pregnant, Here's When She May Be Due
Well, it's allegedly happened. On Tuesday, Us Weekly reported that yet another Kardashian is pregnant. If the report is true, the obvious next question is, When is Khloe Kardashian due? (Romper reached out to Kardashian's representatives for comment but had yet to hear back.) According to Us Weekly, she is having a child with her boyfriend, Tristan Thompson, an NBA player who plays for the Cleveland Cavaliers. The two have been dating since September 2016.
Update: On Dec. 20, Khloé Kardashian confirmed on Instagram that she was expecting her first child with Tristan Thompson. She did not reveal a due date at the time.
Earlier: For anyone at all interested in pop culture, the most shocking part of this news is not that Khloe Kardashian, who is 33, is pregnant. It's that the news comes on the heels of reports Friday that her younger sister and fellow Keeping Up With The Kardashians star, Kylie Jenner, is pregnant and due in February, as People reported. That in itself was show-stopping information (though not really — for the Kardashians, the show never stops. In fact, it is all the show.) because Kylie is only 20 — younger than average for a first-time mom, because she hasn't been with her boyfriend, Travis Scott, for very long, and because another Kardashian sister, Kim, is also expecting a baby. Kim and her husband, Kanye West, will be having their third child via surrogate in January. That is a lot of koncurrent Kardashians in the making. (Romper also reached out to Kylie Jenner's representatives for comment but has not heard back. Jenner has not confirmed reports about her pregnancy.)
Based on recent comments, Khloe certainly sounds like she's well-positioned to have a child. She claims she is extremely happy with Thompson, 26, who has a 9-month-old son from a previous relationship, does sound like a grown-ass man. In an August interview with You magazine republished by The Daily Mail, Khloe said, "Tristan is protective of my entire family, which is beautiful. And I love that everything we do is as a union. When he speaks, it's 'us' and 'we,' and that's important because it shows that you're sharing life."
She said that they have discussed having children, and Khloe herself has made no secret of the fact that she wants kids, although she also told The Daily Mail that she's taking her time:
Once you have kids you can't get back your non-kid years. My sisters and I bother my mum all the time, so I know it's not, like, "When they're 18, you don't worry about them again." You worry about your children for the rest of your life. The concern I have is raising little human beings in a world that's filled with such hate and terror. That seems very scary.
Then again, earlier in the summer she seemed more eager to get on with things. In an episode of KUWTK in June of this year, Khloe saw a fertility doctor who initially reported seeing "fewer [ovarian] follicles than I anticipate for a normal 32-year-old," E! noted. Kardashian immediately worried that she might have trouble getting pregnant. The doctor's office later found that the follicle count was normal.
On the same episode, Khloe reported that Thompson "want to have kids now," adding later, "He wants to have like five or six kids with me" and revealing that she was no longer on birth control, Us Weekly reported. The two reportedly call each other "Dad" and "Mom" as terms of endearment, according to TMZ. When Khloe shared photos from her 33rd birthday in June labeled with those pet names, serious pregnancy speculation ensued but was not confirmed.
And Khloe has always been known as the ultimate Kardashian aunt, frequently posting photos of her nieces and nephews, who include Kim's daughter, North, 4, and son, Saint, 1, and oldest sister Kourtney's sons Mason, 7, and Reign, 2, and daughter, Penelope, 5.
So if Khloe is, indeed, pregnant, when can we expect her baby to be born? TMZ reports that sources say Khloe is three months along, meaning she would be due in April. Since neither Khloe, Thompson, nor anyone from her family or his has confirmed this news, there's no way to know if that's true. But if it is, it's going to be a very busy first half of 2018 in K-ville.
Watch Romper's new video series, Romper's Doula Diaries:
Check out the entire Romper's Doula Diaries series and other videos on Facebook and the Bustle app across Apple TV, Roku, and Amazon Fire TV.