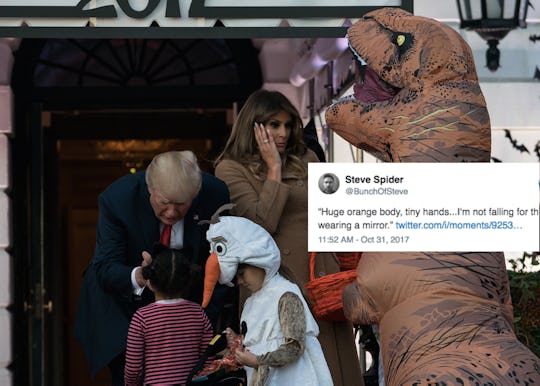 NICHOLAS KAMM/AFP/Getty Images
Trump Was Scared By A Kid In A Dinosaur Costume, & The Internet Is Loving It
On Monday evening, the Trump family celebrated its first Halloween at the White House, where they took to the decorated South Lawn to hand out candy and greet visitors. And if you've been waiting for a tweet-worthy event this Halloween, don't worry — the White House trick-or-treating event definitely delivered. The internet now thinks President Donald Trump is afraid of a kid in a dinosaur costume, and the reactions online have been priceless.
Media captured a lovely moment in which Trump, leaning over to hand out treats to a couple of tiny kids, missed a child in an inflatable dinosaur costume approaching him and first lady Melania Trump. When he stood back up, he seemed to grimace at the sight of the dinosaur, fiddling with his suit and tie rather than acknowledging or handing out candy to the (ahem, very scary) dinosaur. (Not to worry, however — Melania reacted with plenty of fake surprise and a little goody bag of treats for the dinosaur.)
Plenty of other costumed kids came through the White House's South Lawn for goodies and short conversations with the president on Monday night, but the T-rex incident was, clearly, the best interaction that took place. Have a look for yourself (you're welcome):
The reaction online was instant and unsurprisingly amazing. Comments ranged from political jokes to just straight-up appreciation. "Trump being scared of a kid dressed up as a dinosaur is exactly what i needed this morning," one Twitter user wrote. (And hey, me too, internet stranger. Me too.)
"He's had trouble with guys named Rex," another commented, referring to Secretary of State Rex Tillerson, who famously refused to deny that he had once called Trump a "moron," according to CNN. Tensions were reportedly running a bit high between Trump and Tillerson for a while after that.
In case you also need a laugh on this Tuesday morning, here are some of the other best tweets that emerged from Trump's interaction — or lack of interaction, I suppose — with a T-rex.
There Were A Few "Small Hands" Shots Fired
Some People Figured The Dinosaur Reminded Trump Of A Certain Protest
Some Went For The Political
And Others Were Just Super Pleased By The Awkward Interaction
The trick-or-treating event on Monday night wasn't the only Halloween event that took place at the White House. On Friday, children of the press corps headed to Trump's office to collect treats, according to NBC News, where Trump told them in front of the cameras: "I cannot believe the media produced such beautiful children. You're gonna grow up to be like your parents?"
As he handed out candy, he then reportedly told one little girl, "You have no weight problems, that's the good news, right?" He also reportedly asked another girl if she was Japanese, saying she was "beautiful," before remarking that he'd soon be in Japan. As one might expect, the internet didn't react too kindly to having the president make comments like that to young girls.
With Halloween wrapping up on Tuesday, though, the festivities at the White House (and Trump's awkward interactions) with children are likely coming to a close. For both Trump's public relations team and everyone else who's had to bear witness this odd assortment of events, that's probably a good thing.
And hey, if you need a last-minute Halloween couples costume for tonight? Might I suggest having one partner dress up as Trump, while another dons an inflatable dinosaur costume. I promise you'll be the most timely costume at whatever party you head to. (Plus it'll give you an excellent excuse to keep re-sharing that video of Trump and the dinosaur.)
Watch Romper's new video series, Romper's Doula Diaries:
Check out the entire Romper's Doula Diaries series and other videos on Facebook and the Bustle app across Apple TV, Roku, and Amazon Fire TV.