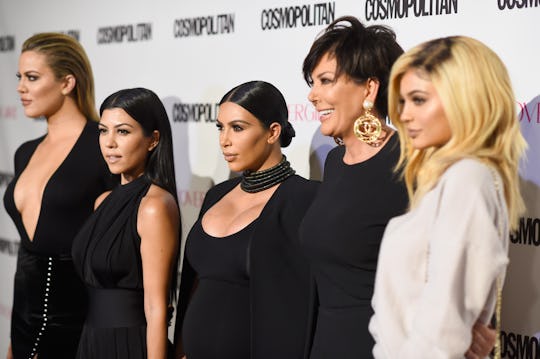 Frazer Harrison/Getty Images Entertainment/Getty Images
The Kardashian Family's Thanksgiving Traditions Are (Mostly) Just Like Yours
The Kardashian/Jenner clan knows how to celebrate the holidays. I mean, they like really know how to celebrate. Halloween, Easter, Christmas... think massive themed parties with celebrities and so many selfies you can't stand it. But there's one holiday where they seem to go a little more personal, and I sort of love it. In fact, the Kardashian family's Thanksgiving traditions seem to be less about the glitz and more about the gratitude. For the most part, anyhow.
Almost every year, momager Kris Jenner hosts the crew for dinner at her Calabasas mansion, other than last year when youngest daughter Kylie Jenner insisted she was going to host the event, according to E! News. Which was a pretty serious undertaking, considering she was busy being pregnant for the first time and keeping it a big giant secret from everyone in the world.
This time around, though, it looks like Kris Jenner will be hosting the big event. And I do mean big event; the family continues to get bigger all the time, with three new babies born into the family in the past year. Kim Kardashian's daughter Chicago, Kylie Jenner's daughter Stormi, and Khloé Kardashian's True have all been added to the grandchildren roster, which now stands at nine.
Although they might not have the full contingent of Kardashian/Jenners on hand for the dinner (Khloé and baby True are expected to be in Cleveland, Ohio with True's father Tristan Thompson for the holidays, according to Metro), it should still be a spectacular event.
The Menu
The Kardashian family apparently likes to go super traditional when it comes to their Thanksgiving feast, as Kris Jenner told People back in 2014:
We do a very traditional Thanksgiving dinner. It's turkey and dressing, gravy, mashies, veggies and stuffing and, of course, a gazillon desserts.
All of the KarJenner sisters apparently like to get involved in the food preparation, but I have a feeling they'll be missing Khloé's contribution if she's not on hand this year. Sure, Kourtney is super health conscious and that's amazing and stuff. But Khloé is all about those wicked desserts. Like her famous monkey bread that I've made myself and it's truly decadent.
As for the rest of the family, Kris Jenner is apparently a dab hand at making sweet potato souffle, which she shared on The Rachel Ray Show, and Kylie Jenner is supposedly great at yams.
The Nostalgia
Here's something I love about the Kardashian/Jenner family: they are really into nostalgia. Like Kris Jenner sharing a traditional Armenian recipe from her mom with the next generation for Thanksgiving, or Kim Kardashian reminiscing about how she used to spend the holiday with her father Robert Kardashian before he died. As she wrote on her website in 2015, as per Glamour:
Thanksgiving was the holiday that I always spent with my dad skiing every year in Vail, Colorado since I was two years old to 22. This time of year always brings back such amazing memories. I am thankful I had them. I am so thankful for my family being close and always so supportive.
The Speeches
Much like so many other families out there, the Kardashians spend a little time during dinner going around the table and sharing what they're thankful for. And of course, they're thankful for a lot so everyone gives a sweet little speech at the dinner table. They're generally thankful for each other, their kids, and probably their bags of money. Just kidding they never say that (out loud).
The Decor
As with everything in the Kardashian/Jenner clan, the Thanksgiving decor is gloriously over the top every year. Kris Jenner told Rachel Ray that she has a specific set of dishes she likes to use from Hermes (naturally), but before you start thinking she's some kind of snob, she also uses turkey napkin holders. Also think candles, flowers, and white pumpkin soup bowls.
The Self-Promotion
Clearly the Kardashians enjoy similar Thanksgiving traditions to the rest of us, but there's one way they differ slightly; Thanksgiving is also about self-promotion. Especially since Black Friday is just hours away and these girls have some cosmetics to sell, as W magazine noted.
So yes, the Kardashian ladies do hit up social media with their cosmetics sales over the Thanksgiving holiday. But that's what keeps the turkey on the table, after all... can you blame them?